Disappearing Demi Moore Showcases Super Skinny Figure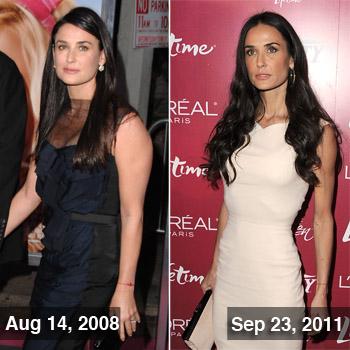 Where have Demi Moore's bombshell curves gone?
The timeless actress is famous for her never-aging body but has appeared to be wasting away when spotted over the past few days, and RadarOnline.com has photos of her vanishing figure.
On Friday, Mrs. Ashton Kutcher first sparked concern when she revealed her stick-thin arms and tiny waist at Variety's third annual Power of Women luncheon in Beverly Hills in a white sleeveless dress.
Article continues below advertisement
The 47-year-old actress followed up her skinny showcase on Monday when she arrived at Good Morning America in leather pants that should have clung to her legs tightly, but instead hung loose and baggy.
From the raw food diet to the Master Cleanse, the Charlie's Angels star has been open about her extreme methods of calorie-restriction but she appears to have finally taken her body obsession too far.
Nutritionist Dr. Majid Ali, who has not treated the star, told RadarOnline.com that he thinks Moore has been spending too much time in the gym, as opposed to too little time at the dinner table.
"It looks more like over training with restricted calories, than an eating disorder," he told RadarOnline.com, adding that Demi is at least 10 pounds under weight, estimating her weight at around 100 pounds.
Article continues below advertisement
"She doesn't have that wasted loss of muscle eating disorder look, but she could be over training. I certainly wouldn't want her any thinner," Ali explained.
"I had an extreme obsession with my body. I made it a measure of my own value. I tried to dominate it, which I did, and I changed it multiple times over," Moore recently confessed.
"But it never lasted and ultimately it didn't bring me anything but temporary happiness. Does being thin resolve anything? No. The irony is that when I abandoned that desire to dominate my body, it actually became the body that I always wanted."