Did Demi Moore Hint To Marital Problems With Tweets?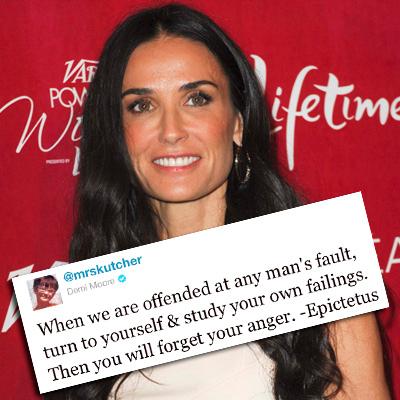 Ashton Kutcher was one of the first celebrities to plug Twitter hard, being the first user to reach 1 million followers buoyed by his wit -- and little stunts like the time he posted a scantily-clad shot of wife Demi Moore's shapely rear end.
Turns out he might have punk'd himself, as Demi's recent tweets are giving her 4 million followers and the rest of the world a glimpse into what could be the end of their marriage.
Article continues below advertisement
The normally chipper Striptease star tweeted September 23, "When we are offended at any man's fault, turn to yourself & study your own failings. Then you will forget your anger."
Then, on September 24 -- the night of their sixth anniversary -- Kutcher was seen partying at San Diego club FLUXX with fellow actors Danny Masterson, Eric Balfour, Christopher Masterson and Michael Pena. The five guys sipped on Ketle One, Tequila and Patron Platinum in the VIP section.
Kutcher is accused of bedding 23-year-old Sara Leal at the Hard Rock Hotel in San Diego later that night.
Two days later, on September 26, she tweeted a pic of herself with her eyes closed with the caption, "I see through you...." (Do we really need to add to this one?)
The possibly-cryptic tweets comes in the wake of Star magazine's sizzling new article revealing their marriage is "officially over" as a result of Kutcher's cheating.
Article continues below advertisement
"Ashton and Demi have separated and the marriage is over," a source close to the pair told Star. "The relationship ended because of Ashton's serial cheating. It's a painful time for Demi. It was definitely a long time coming, but they're finally done for good."
Kutcher 33, and Moore, 48, have not responded to RadarOnline.com's repeated requests for comment.
The story about Ashton's latest alleged affair was first broken on TheDirty.com.