Ashton Kutcher Caught On Camera At Club Night Of Fling With Woman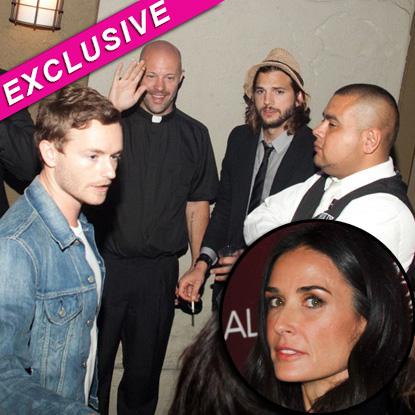 Ashton Kutcher is seen partying with the boys at San Diego club FLUXX -- on the night of his sixth anniversary to Demi Moore -- in these just-released photos on RadarOnline.com, fueling rumors there's trouble in paradise between the married A-listers.
The scandal also comes in the wake of Star magazine's sizzling new article revealing their marriage is "officially over" as a result of Kutcher's cheating.
Article continues below advertisement
"Ashton and Demi have separated and the marriage is over," a source close to the pair told Star. "The relationship ended because of Ashton's serial cheating. It's a painful time for Demi.
"It was definitely a long time coming, but they're finally done for good."
Kutcher brought fellow actors Danny Masterson, Eric Balfour, Christopher Masterson and Michael Pena to FLUXX, where the five fellas sipped on Ketle One, Tequila and Patron Platinum in the VIP section.
An insider who was at FLUXX that night said the Two and a Half Men star was on the prowl for women, and was overheard complaining that "none of the women at the club were hot tub worthy."
As we previously reported, Kutcher is accused of eventually finding a lady worthy of the hot tub, as 23-year-old Sara Leal allegedly hooked up with him at the Hard Rock Hotel in San Diego.
The woman has lawyered up with a top Hollywood attorney and gone into hiding, sources said.
Article continues below advertisement
Earlier this week, one pal told us: "She is due to meet with an attorney Tuesday ... she is freaking out."
As a result of the cheating, sources reveal that Demi and Ashton had been living separate lives and during Ashton's recent trip to NYC to visit Demi, it became clear that the marriage was beyond help.
"It was obvious to everyone around them that things were completely over between them and that they are just putting on a show until they officially split," a source told Star about the couple's time at the 60 Thompson hotel in NYC.
MORE ON:
Two and a Half Men
"As far as I know, Demi ended up staying at her place on the Upper West Side and Ashton was here by himself."
Kutcher 33, and Moore, 48, have not responded to RadarOnline.com's repeated requests for comment.
As Star previously revealed, Kutcher had a sexual fling with Brittney Jones, then 21, who claimed she and Kutcher "made love on the couch" in his living room while the three-times married Moore was filming a movie in Detroit.
Article continues below advertisement
"He's a great lover," Brittney said. "Very considerate and sweet. And it was very special to me. I felt totally comfortable in his arms. It was tender and nice--not some random sex act."
Kutcher ended the relationship during a second meeting, the woman said.
There is also speculation that Ashton and Demi's relationship was nothing more than a business deal to begin with.
"It was mutually beneficial for them to get married. It gave her the cougar effect and rocketed him to the A-list," the insider said. "To me, their relationship felt like a business deal with some feelings. But now that Ashton is so famous and the deal is done, what more is there?"