Exclusive
Inside Demi Moore & Ashton Kutcher's $290 Million Divorce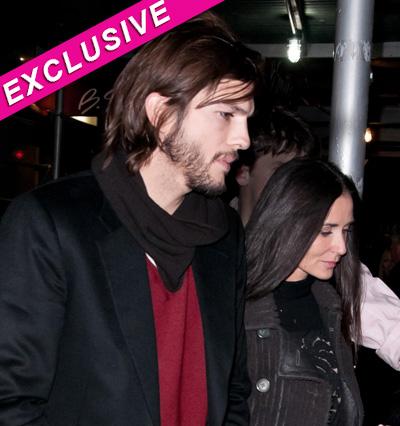 Demi Moore and Ashton Kutcher's relationship has crumbled, and according to Star magazine the couple will be battling it out in a bitter $290 million divorce.
"Ashton was a serial cheater, and Demi just couldn't take it anymore. She didn't deserve to live that way. It's a painful time for Demi," the insider told Star.
"It was definitely a long time coming, but they're finally done for good."
Article continues below advertisement
While the two should have been celebrating their six-year wedding anniversary last weekend, Ashton was in a San Diego nightclub boozing with scantily-clad women, one of whom he reportedly slept with, according to website TheDirty. Meanwhile, Demi was in New York walking the red carpet with Jennifer Aniston for the premiere of her Lifetime movie, Five.
As RadarOnline.com previously reported, 23-year-old Sara Leal allegedly hooked up with Ashton at the Hard Rock Hotel in San Diego and has hired a top Hollywood attorney and gone into hiding since news of her indiscretions with Ashton broke.
As a result of the cheating, sources reveal that Demi and Ashton had been living separate lives and during Ashton's recent trip to NYC to visit Demi, it became clear that the marriage was beyond help.
"It was obvious to everyone around them that things were completely over between them and that they are just putting on a show until they officially split," a source told Star about the couple's time at the 60 Thompson hotel in NYC.
Article continues below advertisement
"As far as I know, Demi ended up staying at her place on the Upper West Side and Ashton was here by himself."
The Two and a Half Men star and Demi managed to meet up one night for a dinner date, but an eyewitness said, "They didn't say much or look especially intimate."
There is also speculation that Ashton and Demi's relationship was nothing more than a business deal to begin with.
"It was mutually beneficial for them to get married. It gave her the cougar effect and rocketed him to the A-list," the insider said.