Exclusive
Ashton Kutcher's Party Girl Meets With Lawyer As Cheating Scandal Grows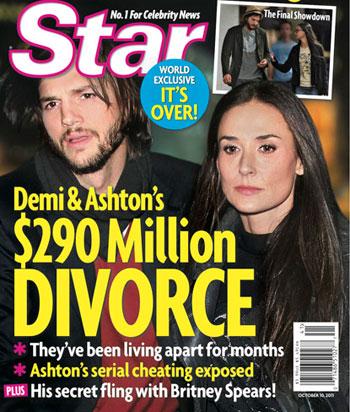 At least one lawyer is now involved as the Ashton Kutcher cheating scandal gets hotter.
Sara Leal, the woman who reportedly slept with Ashton Kutcher this past weekend, on what would of been his sixth wedding anniversary with Demi Moore , met with an attorney Tuesday night, RadarOnline.com has learned exclusively.
Leal's meeting comes as Star magazine is reporting that Kutcher's marriage to Demi is over, with Demi disgusted by Ashton's cheating.
Article continues below advertisement
Star reports in its new issue that hits stands Thursday that the couple has been living apart and will split a $290 million fortune.
Kutcher was caught cheating with 21-year-old Brittney Jones in 2010 and now according to reports he slept with beautiful blonde Leal, telling her that he and his wife were, "separated, but the public just didn't know yet."
Aston was in San Diego Friday night partying with friends at Fluxx nightclub and had sex with Leal at the nearby Hard Rock Hotel, according to the website TheDirty.com.
A source who spoke to RadarOnline.com said that Leal has not decided what – if any – action she is taking but wanted to meet with an attorney "to explore all of her options."
The meeting was held in California although Leal has gone into hiding since the Ashton scandal exploded.
Star magazine is reporting that the Leal incident is the final straw for Demi, 48, and Ashton, 33.
The new issue of Star -- featuring the latest on Ashton and Demi's collapsing marriage -- hits newsstands Thursday.