Exclusive
Khloe Kardashian Wants To Go Blonde Again, But Kris Jenner Won't Let Her!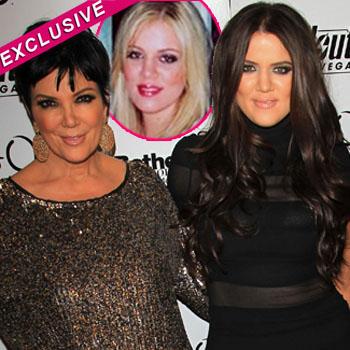 By Jen Heger - Radar Legal Editor
Khloe Kardashian wants to dye her hair again, as she did earlier this year when she briefly turned a redhead, but her momager, Kris Jenner, and E! won't let her change her luscious locks, RadarOnline.com is exclusively reporting.
As RadarOnline.com previously reported, Khloe uploaded nearly 100 photos to her official blog over the holidays showcasing photos from past Kardashian/Jenner Christmas Eve parties — and one in particular shows a thin, blonde, almost unrecognizable Khloe.
Article continues below advertisement
"Merry Christmas Eve my dolls!!!!!!! As I'm sure many of you know, it's a Kardashian Jenner family tradition to host a Christmas Eve party every year at my mom's house," Khloe wrote on her blog.
Khloe dyed her hair a gorgeous shade of red earlier this year, but she was forced almost immediately to go back to her darker locks because of filming on the E! reality shows. Khloe told her fans on her blog: "Hi dolls. I was just looking at pics of me with my red hair and I got kind of sad LOL. It was such a fun, new look for me– I really miss it!!!! So I figured I would do a little gallery devoted to my short-lived redhead look!!"
Khloe wants to dye her hair again, back to blonde this time, but Kris has said she can't because filming of Keeping Up With The Kardashians is going to begin right after New Year's Eve.
"Khloe just wants to simply change her hair color, she has been leaning towards going blonde this time. She has wigs that she owns and when she dons the blonde locks, Lamar LOVES it. Lamar thinks his wife should be able to have her hair whatever color she wants. Practically every woman in Dallas is blonde, and Khloe just thinks it would be fun for her to do," a family insider tells RadarOnline.com.
Article continues below advertisement
The rebellious Kardashian gal has even inquired if E! can legally dictate her hair color, and the answer is, yes!
"E! has a very strict contract with the entire family. Before any physical changes are made on any of the family members during times when the shows are shooting, they must be approved by the network. Executives at E! want Khloe to remain a brunette so that it doesn't date the series when it reruns. The suits want all of the sisters to have a similar look because the girls are branded as sisters, and having one of them showing up on screen with hair a different color, throws that off, and they don't want to alienate viewers," the source says.
"Khloe looks beautiful with either red or blonde hair because the natural color of her hair isn't as dark as Kim's and Kourtney's. Khloe's complexion is also much lighter than her sisters', making it a much more natural look," the friend dishes.
Meanwhile, Khloe is currently house hunting in Dallas with her NBA hubby, Lamar Odom, who was recently traded from the Los Angeles Lakers, to the Mavericks.