Exclusive
Kobe Bryant's Estranged Wife Didn't Get Along With Khloe Kardashian & Other Lakers Wives!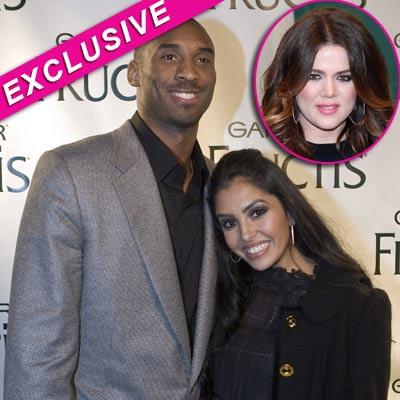 By Jen Heger - Radar Legal Editor
Kobe Bryant's estranged wife, Vanessa didn't get along with Khloe Kardashian during the time Lamar Odom played for the Los Angeles Lakers, or any of the other wives of the NBA champs either, RadarOnline.com is exclusively reporting.
Vanessa filed for divorce from her shooting guard hubby last Friday, after 10 and-a-half years of marriage, and the couple had no prenup.
Article continues below advertisement
Media reports surfaced that other NBA wives were keeping tabs on Kobe Bryant, and told Vanessa about his alleged infidelities, but our sources tell us that she wasn't liked by the majority of the Lakers players' spouses.
After Khloe Kardashian married Lamar Odom, who was playing for the Lakers, she went out of her way to try and get to know Vanessa because Kobe and her hubby are very close.
"Khloe truly tried to break through Vanessa's icy exterior, with no success," a team insider says. "Khloe has always been down to earth, and she became instantly very well liked by Lamar's teammates and wives. Vanessa was extremely jealous of the loving and healthy marriage that Lamar and Khloe have. Khloe and Lamar had the Bryants over for dinner on multiple occasions, and it was always very tense because of Vanessa. Vanessa just thinks that she is better than everyone else."
As RadarOnline.com previously reported, the NBA champ is directing all of his attention to his two daughters, and his basketball career.
"Kobe's sole focus right now is the Los Angeles Lakers, and his two daughters. Kobe is excited for the season to finally begin, and he is very excited about the upcoming season," the insider says. "Kobe is driven, and committed to his team, and anything that is going on in his personal life won't affect him on the court."
Article continues below advertisement
Bryant's teammates AND their wives have wondered why he didn't file for divorce first!
"Vanessa was extremely arrogant, and very, very hard to get along with. Kobe's fellow Lakers had encouraged him to dump Vanessa for years because he was so unhappy. Bryant's teammate, Derek Fisher, and his wife, Candace, fully support Kobe. Kobe didn't pull the plug because of his two daughters. It's easy to blame the divorce on Kobe for his cheating, but Vanessa played a significant role in the demise of their marriage," the friend asserts.