Kobe Bryant Won't Let Divorce Affect Him, 'Focused On Basketball & His Daughters'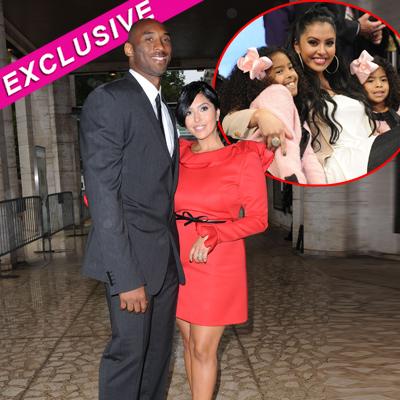 By Jen Heger - Radar Legal Editor
Kobe Bryant is counting the minutes until the NBA basketball season finally begins, and is focusing on taking care of business, on and off the court as his estranged wife, Vanessa has filed for divorce, RadarOnline.com is exclusively reporting.
Vanessa filed for divorce from her Lakers hubby last Friday, after 10 and a half years of marriage, and the couple had no prenup.
Article continues below advertisement
PHOTOS: Hollywood's Dirtiest Divorces
"Kobe's sole focus right now is the Los Angeles Lakers, and his two daughters. Kobe is excited for the season to finally begin, and he is very excited about the upcoming season," a team insider tells RadarOnline.com exclusively. "Kobe is driven, and committed to his team, and anything that is going on in his personal life won't affect him on the court."
As RadarOnline.com previously reported, Vanessa almost filed for divorce from Kobe four years ago, because she was so disgusted with his cheating.
"Vanessa almost threw in the towel four years ago. Kobe has always had a slew of girlfriends, and the cheating was almost blatant," a source close to the couple tells RadarOnline.com.
"Vanessa had consulted with a divorce attorney, not Laura Wasser, who she has hired to represent her now. Kobe promised Vanessa he would stop cheating, and the two went to marriage counseling. Kobe did seem like a devoted husband, and Vanessa decided not to go through with filing at that time."
Article continues below advertisement
Vanessa infamously stood by her NBA champ husband during their 10-year marriage despite a high-profile scandal in which he was accused of sexually assaulting a worker at a Colorado hotel.
Bryant, 33, admitted to having sexual relations with 19-year-old hotel employee Katelyn Faber, but denied assault.
The assault case was dropped by prosecutors after Faber refused to testify in the trial. A separate civil lawsuit was eventually settled out of court for an undisclosed amount.
Meanwhile, Kobe will be an active parent in his daughters lives.
"Yes, Kobe does have a very hectic schedule during the season, but he plans on spending as much time with them as possible when he isn't playing," the source states.
"Kobe's daughters come first, before basketball, and if they need him for anything, he will be there, no questions asked."
Vanessa Bryant Almost Filed For Divorce From Kobe Four Years Ago