Exclusive
Kris Humphries' Lawyer To Question Kim Kardashian & Kris Jenner About Staged Divorce Talk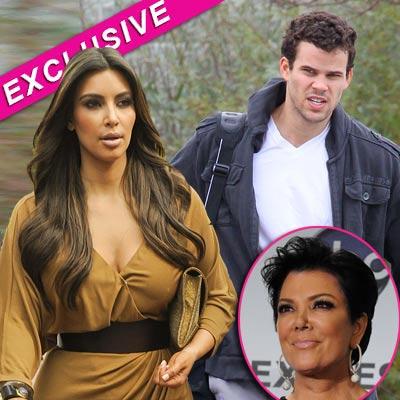 By Jen Heger - RadarOnline.com Legal Editor
Kris Humphries divorce attorney wants to question Kim Kardashian, Kris Jenner, and E! executives about an emotional conversation that the then newlywed had with her momager about the breakdown of her marriage while supposedly on a business trip to Dubai in October, RadarOnline.com is exclusively reporting.
The attorney is interested as the conversation, which aired on Kourtney and Kim Take New York, appears to have been filmed on a sound stage in Hollywood in December, nearly two months after the actual trip.
Article continues below advertisement
As RadarOnline.com previously reported, in photos taken of Kim and her mom on December 6, as they exited a TV studio, Kim is dressed in the exact outfit, with the same hair style and earrings, as she is seen wearing in the scene supposedly shot in mid-October in Dubai. And mom Kris was followed out of the studio by an assistant carrying the purple kaftan-style dress she is seen wearing in the back of the limo.
The NBA star has cited fraud in his official response to the divorce petition, and wants his lawyer to question his soon to be ex-wife, and Kris Jenner about the pictures taken on December 6, feeling this backs his case.
"Kris feels that if this is true and the whole conversation was faked, this would help prove that he got married under fraudulent circumstances. Yes, this did occur after the marriage, but this is one clear example that could help sway the judge to grant the divorce on the grounds of fraud," an insider told RadarOnline.com.
Article continues below advertisement
Before the Dubai episode aired, Kris tweeted, "I can't wait for the truth to come out! People will be surprised or maybe they won't. #FCC."
This could derail Kim's plans for the divorce to be heard by a private mediator. "A public trial is the last thing that Kim wants, and she has instructed her lawyer to formally petition the court so that the divorce can be heard by a mediator, which is routinely done in California, since it's a no-fault state," a source close to the situation told RadarOnline.com.
"Kim doesn't want a long drawn out trial. She wants the mediation to be private, confidential, and legally binding. She and Kris have no assets together and kept separate bank accounts, so this is a fairly routine divorce proceeding. Kim just wants this over and done with."
Meanwhile, despite accusations that the couple wed for the cameras and monetary gain, Humphries told Access Hollywood that his short lived marriage was real. "To me it was real. I would never go through something or do something that wasn't real or I didn't believe in, so I can really only speak for myself in terms of that."