Good News Guys, She's Still Single! Kim Kardashian Denies Dating Mark Sanchez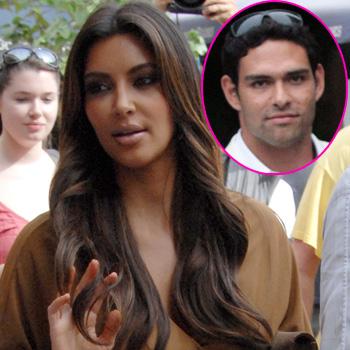 Kim Kardashian is still single and definitely ready to mingle!
The beautiful brunette has denied reports that she's dating hunky NFL star Mark Sanchez, insisting in true Hollywood starlet fashion, that they're "just friends."
As RadarOnline.com previously reported, the reality star was rumored to be embroiled in a hot and heavy "secret romance" with the New York Jets quarterback — with a source claiming: "Kim and Mark like to meet in hotels for dinner dates and flings. Whenever Kim is in New York, they hang out. They are very careful with not being seen together, Mark is seeing someone!"
Article continues below advertisement
That someone is 19-year-old Victoria's Secret model Kate Upton, who Sanchez has been dating since December, so Kim's denial is sure to come as a relief to her!
Kardashian told US Weekly: "I swear I'm not dating Mark Sanchez at all. Honestly. I'm a huge Jets fan and became very good friends with him and his buddies.
"There's genuinely, absolutely nothing going on. I've always been that girl who has a lot of dude friends. I'm into sports so we have a lot in common, but no, definitely 100% not dating."