When Reality Stars Collide! Kim Kardashian And Kyle Richards Bump Into Each Other At Nail Salon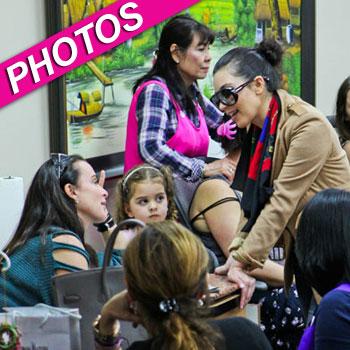 Well fancy seeing you here!
Kim Kardashian and The Real Housewives of Beverly Hills star Kyle Richards showed how small the reality TV world is in L.A. when they bumped into each other at the nail salon Saturday.
The dark-haired divas were both on a pampering mission and had the chance encounter while getting their mani-pedis done.
Kim had just got her eyebrows done at Anastasia Beverly Hills before crossing the street to have her talons seen to.
Article continues below advertisement
They've probably known each other for a while as Kim used to be friends with Kyle's niece Paris Hilton.
And although Kim and the hotel heiress are no longer BFFs, it didn't stop her from having a good gossiping session with Kyle who had also brought along her adorable daughter Portia for the trip.
The Keeping Up With The Kardashian star then left the salon toting one of her ever-present Hermes Birkin bags.