Exclusive
Kris Humphries Tells Friends: Kim Planned My Wedding Proposal To Her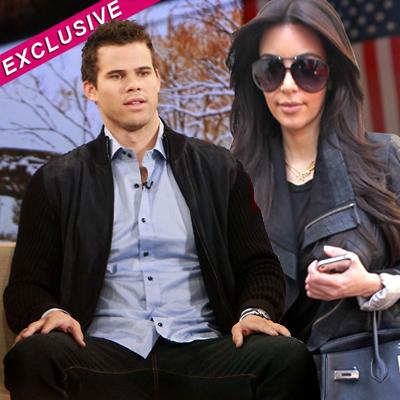 By Jen Heger - Radar Legal Editor
Kris Humphries has told his inner circle of trusted friends and family that his soon-to-be ex-wife, Kim Kardashian, planned his wedding proposal to her, which was filmed for Keeping Up with the Kardashians, RadarOnline.com is exclusively reporting.
It's the latest bombshell to rock the Kardashian clan.
In the latest example of staging, cameras captured Humphries proposing to Kardashian in the bedroom of her mansion. Kris had wanted to propose to Kim in Minnesota, but he had absolutely no control over how it all went down.
Article continues below advertisement
"Kim told Kris how, where and when to propose, it was absolutely no surprise to her whatsoever", a source close to the situation tells RadarOnline.com exclusively.
"First of all, Kris proposed in the middle of the day, and he had to do that because it would create better lighting to capture the moment. Kim looked so surprised but she knew it was happening," the source says. "She was in full hair and make-up, as she always is on the show. Kris wanted it to be very intimate and romantic, but all of his ideas were shot down by production officials and Kim.
"Kim told him the paparazzi would ruin the special moment if it were to take place in a public setting, like the beach, which he had also considered. How romantic could it be with three camera crews?"
As RadarOnline.com previously reported, Kim and Kris Jenner had an emotional heart-to-heart chat about the breakdown of Kim's marriage in a recent episode of Kourtney & Kim Take New York which was set when the women were in Dubai.
Article continues below advertisement
Only it wasn't! The women were in Dubai in October, and the "heart to heart" scene was actually shot in December and edited into the episode!
In photos taken of the pair on December 6, as they exited a TV studio, Kim is dressed in the exact outfit, with the same hair style and earrings, as she is seen wearing in the scene supposedly shot in mid-October in Dubai. And mom Kris was followed out of the studio by an assistant carrying the purple kaftan-style dress she is seen wearing in the back of the limo.
Before last week's episode aired, Humphries sent out a cryptic tweet: "I can't wait for the truth to come out! People will be surprised or maybe they won't. #FCC."
Kim filed for divorce after only 72 days.
Even though Kim isn't an executive producer on her reality shows she has full editorial control of what goes on air as RadarOnline.com previously reported.
The E! reality darling will be seen "as the victim, and Kris will definitely be the bad guy. Kim was stunned by the amount of bad press and the public relations nightmare she has endured since deciding to file for divorce," a source told RadarOnline.com. "Kim will be using the show to attempt to rehab her image. Kim has been telling her inner circle that she has worked very hard to get where she has, and she isn't going to let her marriage and subsequent decision to divorce Kris Humphries ruin that."