Exclusive
Ex Wife: Khloe Kardashian's 'Dad' Hid Fact She Wasn't His In Divorce Papers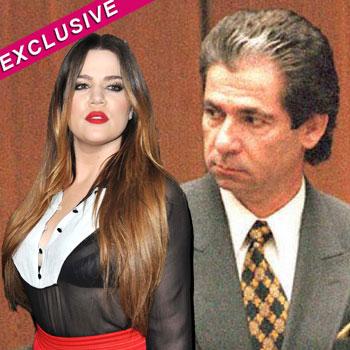 Robert Kardashian would NEVER have admitted in divorce papers that Khloe was not his biological child, says the woman who married him after he divorced Kris.
In the wake of erroneous reports that Robert's divorce papers somehow proved his paternity of Khloe, Jan Ashley is setting the record straight in a new interview with RadarOnline.com and makes it clear that Robert hid the fact that Khloe was not his biological child, after catching wife Kris cheating on him.
Article continues below advertisement
"He would never say in court documents that Khloe wasn't his," Jan said on Friday, in response to the well-known fact that Robert listed Khloe as his biological child in his divorce papers.
"He would never do that to Khloe. He loved her," Jan told RadarOnline.com. "She's always been treated the same. In fact, he treated her even better than the other kids."
Jan stunned the entertainment world this week when both she and Robert's next wife, his widow Ellen, independently revealed Kardashian told them that Khoe was not his biological child.
His wife Kris was cheating during the marriage and Robert told his two subsequent wives that he was not having sex with Kris.
Jan made her comments in a blockbuster interview with Star magazine, which also tracked down Robert's widow, Ellen Kardashian, who confirmed her story, saying Robert made similar comments to her.
Khloe's outrage over the remarks struck many as strange, as she has openly questioned if she is a Kardashian, even turning the question into an episode of the family's TV show in 2009.
Article continues below advertisement
Both Jan and Ellen were aware that in Robert's divorce papers from Kris he listed Khloe as one of his biological children, but both women reveal that proves only what a decent man he was, and that he did not want to subject Khloe to a DNA test. He made it clear that even though he believed he was not her biological father, he considered himself her dad.
Jan told RadarOnline.com that Robert knew his wife's cheating wasn't Khoe's fault and he didn't want to drag her into a court battle.
MORE ON:
Celebrity Justice
Khloe has never taken a DNA test with her siblings to see if they have the same biological father.
While some media outlets have tried to contend that the divorce papers "prove" Robert was Khloe's biological father, both Ellen and Jan say that simply isn't the case and because they were married to Robert after the papers were filed, they knew all about it and admired Robert for not putting it in the papers, despite his hatred for Kris Jenner.
Article continues below advertisement
EXCLUSIVE DOCUMENT: Read Robert Kardashian's Declaration
"Robert was embarrassed that Kris was running around," Jan told RadarOnline.com on Friday. "He hated her so much. I heard it all the time."
In this week's Star magazine, both Jan and Ellen give full details about Kris' affair and how Robert covered up the Khloe paternity scandal.
Both women also confirm that Khloe has openly questioned her paternity throughout her life.