Boycotting The Kardashians! New Petition Calls For Removal Of Kim & Family From TV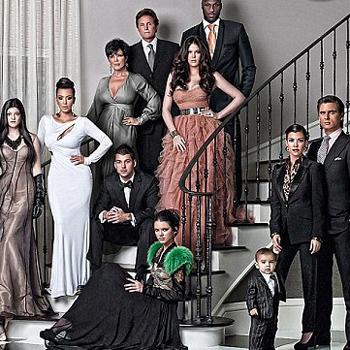 Not everyone thinks that Keeping Up with the Kardashians is a good idea!
In fact, several organizations are petitioning to get Kim, Kourtney, Khloe and the rest of the Kardashian clan off the airwaves – and RadarOnline.com has the details.
"In a grass roots effort, we have collected thousands of signatures for a petition asking E! Entertainment to remove the Kardashian suite of shows from their programming," Cyndy Snider, the organizer of a petition on GoPetition said in a statement, first published on Yahoo TV.
Article continues below advertisement
"We feel that these shows are mostly staged and place an emphasis on vanity, greed, promiscuity, vulgarity and over-the-top conspicuous consumption."
As of November 15, the "No More Kardashian" petition, which launched on November 2, had more than 10,000 signatures.
Snider continued, "While some may have begun watching the spectacle as mindless entertainment or as a sort of 'reality satire,' it is a sad truth that many young people are looking up to this family and are modeling their appearance and behavior after them.
"I'll remind you here that the Kardashian family fame largely started with a 'leaked' sex tape."
There are also other websites and Facebook pages like BoycotttheKardashians.com dedicated to getting the Kardashians off television, and as RadarOnline.com previously reported, an ever growing number of people have posted on Tyler Perry's website, demanding that the successful director oust Kim from her role in his new movie, aptly titled, The Marriage Counselor.
Article continues below advertisement
One person wrote on Perry's site: "I just felt the overwhelming need to add that I am in complete and total agreement with the majority of the people who have posted calling for you to protect the proud legacy you have built by NOT hiring Kim K. Hers is a tale told by an idiot, full of sound and fury, signifying nothing and I would venture to say, without a pun intended, that she is contagious and will bring down those otherwise respectable people around her. Do yourself a huge favor and put as much distance as you can between not just the two of you, but the entire "brand" (for total lack of a better word) that is Kardashian. Down with the KK..."
It seems speculation that Kim's 72 day marriage to Kris Humphries was a hoax that was staged for the cameras has brought the ire of former fans and haters alike.
"It was pretty much an arranged marriage right from the start," one source, close to the Keeping Up With The Kardashians production, told RadarOnline.com. "Kim was looking for a husband and Kris was selected for her, amongst others. She wasn't really into him but she hoped she would be able to develop some feelings, but it never happened. She was never particularly attracted to him, and by all accounts absolutely hated sleeping with him or even having to make out with him.
Article continues below advertisement
"The whole wedding was a total hoax and a publicity stunt. It was great for ratings and it was an amazing money maker. That's it though, period. Kris turned out to not be as malleable as everyone hoped he would be, he was pictured out partying with other girls, Kim really couldn't care less for him, she decided to end it."
However, Kim has vehemently denied the accusations, insisting "I would never marry for a TV show or for money."
"I don't think I'm ready to go into details of what went on in my marriage," the socialite told 2Day FM in Australia, "but I do want to make clear that I would never marry for a TV show, for money, for anything like that and I think that's ridiculous that I have to defend that.
"But I guess that's what comes along with when you film your wedding for a reality show."
What do you think about the latest anti-Kardashian campaign? Leave your comments below.