Kendall Jenner Gets $90,000 SUV As 16th Birthday Present!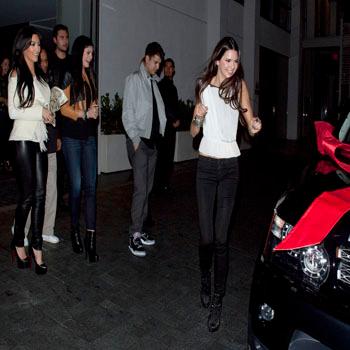 Kendall Jenner celebrated her 16th birthday Saturday night and literally jumped into the gift from her family -- a $90,000 2012 Range Rover!!
Just about the entire Kardashian-Jenner clan was there at the Andaz Hotel in Hollywood for the bash.
Kim put her divorce issues with Kris Humphries aside to celebrate with her half sister, whose birthday was November 3. Mom and dad Kris and Bruce Jenner were there, so were Khloe Kardashian with husband Lamar Odom and Kourtney Kardashian with baby daddy Scott Disick.
Article continues below advertisement
And back to that SUV. It was delivered just outside the hotel, wrapped in a big red ribbon.
The 2012 Range Rover has a list price starting price of $80,275. With Calif. sales tax and delivery charges, the total comes to over $90,000. But hey, for that you get a terrific 13/19 MPG.
Happy birthday, Kendall!
RELATED STORIES:
Kim Kardashian Won't Be Selling A Divorce Interview, Says Mom Kris