Kris Jenner: SNL Skit Of My Family Was 'Incredibly Funny'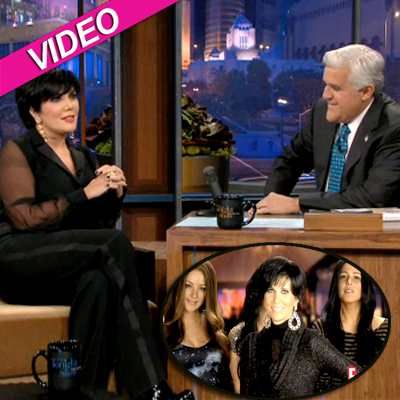 Kim Kardashian's mother Kris Jenner told Jay Leno on Tuesday she thought Saturday Night Live's stinging parody of her and her family -- a skit titled "Kim's Fairytale Divorce" -- was "incredibly funny.
"I thought Kristen Wiig got me head on," the reality TV maven told Leno. "And as I said a couple days ago, I'd love to know where she got those earrings from!"
Jenner, 56, appeared on the show to promote her new memoir, Kris Jenner...and all things Kardashian, which features her insider insights of the O.J. Simpson case, as her ex-husband Robert was one of Simpson's chief attorneys and she was best friends with Nicole Brown Simpson.
Article continues below advertisement
"I met O.J. when I met Robert Kardashian: Basically, I knew O.J. my entire adult life," Jenner said, adding that their families "died everything together."
She said of Simpson: "He was a very charismatic guy, a lot of fun to be around, always the life of the party ... that's the O.J. I know."
Watch the video on RadarOnline.com
Asked if she believes if Simpson killed her dear friend Nicole, she said, "You know what, you'll have to read the book, it's not a 'Yes' or a 'No' ... it's an entire conversation."