Exclusive
Deja Vu? Kim Kardashian's Engagement Ring Looks Familiar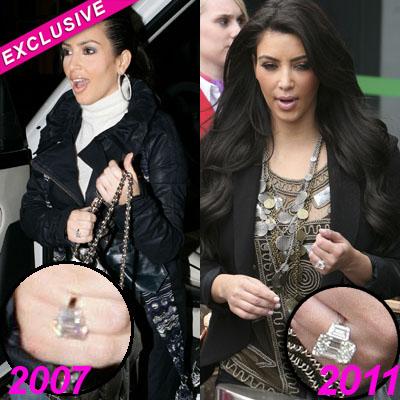 Article continues below advertisement
"On December 26, 2007 Kim wanted to stage a paparazzi moment acting like she got engaged because she was with Reggie Bush at the time, so I did a set up with her with the same ring."
Jaxson claims that he had Kim visited jeweler XIV in Beverly Hills with the ring in her purse, tipped off a photographer, then had Kim slip the ring on her right hand and walk out with a XIV shopping bag.
"The ring was something she was very proud of and was so excited to show it off," Jaxson said.
"Low and behold the ring is the same ring that she allegedly got from Kris and had to be shipped via a Brinks truck, as played out on their show this year."
Jaxson says he has plenty of insider details on the Kardashians and plans to release them all in a tell-all book titled Don't You Know Who I Am Yet? that he's currently shopping to publishers.
RadarOnline.com cannot confirm whether or not Kim's engagement ring is the same one she wore when dating Reggie, but the similarities are uncanny.