Exclusive
Kim Kardashian Gets To Keep The Ring But Should Return The Wedding Gifts, Says Etiquette Expert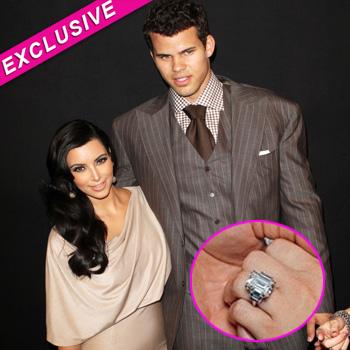 Article continues below advertisement
As RadarOnline.com previously reported, Kim filed for divorce from the New Jersey Nets player on Monday, citing "irreconcilable differences."
The short-lived couple's gift registry at Geary of Beverly Hills alone added up to $172 million and included a $7,850 Baccarat crystal vase and $38,400 worth of Torchon dinnerware. They were also registered at the more practical houseware store, Williams-Sonoma.
"She should add a note saying: 'Thank you for your love and support, we have decided to end our marriage and we wanted to return this gift to you,'" said Post, adding that they should also make sure that any store credits go back to the person who bought the present.
"The only exception is if they were personally monogrammed or had been used," she added.
Considering they were only married 72 days, many of the gifts probably haven't even taken them out of the boxes!
Article continues below advertisement
"If there are guests who haven't sent a gift yet - they have until three months after the wedding before it's considered rude - then they are now off the hook and don't have to."
But, when it comes to Kim's $2 million, 20.5-carat Lorraine Schwartz ring though, that's hers to keep as a souvenir of her short-lived marriage.
"Technically the ring is a promise to get married and she did that, so she should not have to give it back," explained the etiquette expert. "It is hers now so she can do with it whatever she wants."
Now the marriage is over, the next step is dealing with the emotional pitfalls of the subsequent divorce.
Specialists Allison Pescosolido M.A. and Andra Brosh Ph.D., co-founders of Divorce Detox tell RadarOnline.com that even though it's too late for marriage counselling, they should still seek therapy.
"It's very important for them to get professional help to identify their part in the marriage breakup, they have to take personal responsibility for their sides in it. Even though their marriage was so short it is very traumatic," said Pescosolido.
Article continues below advertisement
"There are so many hopes and dreams that are attached to the marriage, no matter how long it lasts - heartbreak is heartbreak."
The divorce gurus said that the odds were against Kim from the start, who was married briefly to music producer Damon Thomas in 2004.
"The rate of divorce goes up with the second marriage. It's 50 percent for the first marriage and 60 percent for the second."
Struggling to cope with life in the spotlight is one of the numerous factors that could have caused the high-profile split, explained the Divorce Detox experts.