Exclusive
Kim Kardashian & Kris Humphries' Marriage 'Doomed' From The Beginning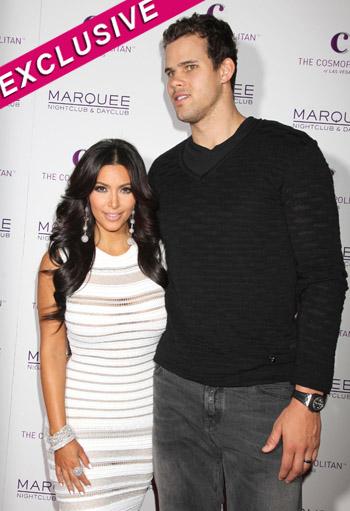 As you know by now, Kim Kardashian, citing "irreconcilable differences," filed for divorce from husband Kris Humphries Monday after a mere 72 days of marriage.
Of course, if you were a regular reader of Star magazine, you knew it well before Monday's jaw-dropping revelation, as the magazine detailed the couple's road to divorce court before it was official.
In the magazine's October 31 issue, a source told Star, "To be honest, I don't think Kris truly loves Kim. And I don't think he ever really did."
Article continues below advertisement
In that issue, a source spilled the details of Kris' raunchy time in a club with a pair of girls named Jill and Lauren, where he was acting "like a single man."
"Jill and Lauren started dancing in his lap," the source told Star. "It got really steamy, and Kris did nothing to push them away! It certainly didn't seem like he was thinking of Kim at that moment. He was really into the girls' dancing."
Rubbing it in, the girls celebrated their risqué brush with fame, tweeting about it.
"Dancing on his lap life is complete," Jill tweeted. "Best night of my life.... He is so PERFECT in person," while another tweeted, "SORRY KIM."
And it goes back way earlier than that: The magazine reported in its' October 3 issue the newlyweds were already drifting apart from each other during New York's fashion week September 13. While Kris watched his sister walk the runway at a show at Lavo by himself, Kim showed up solo to the Lincoln Center to watch another series of shows.
Article continues below advertisement
A source told Star Kris' "harsh" manner with Kim, obnoxious behavior, inability to get along with Khloe and Kourtney and flirting with others, was already causing the duo to spend less time together.
Then, in its' October 17 issue, the magazine reported the pair had already stopped wearing their wedding rings. The tension grew after Kris and his pals were eyed at a NY hot-spot, and the hoopster was flirting like crazy with the women.
"They were treating him as if he was single," a source told Star, "and Kris was acting like he didn't have a wife at home ... countless girls have been throwing themselves at him -- and he's loving it.
"He and Kim won't make it to their first anniversary."
And in its' November 7 issue, Star reported that the friction was easily spotted when Kim celebrated her birthday at a Las Vegas party October 22.
Article continues below advertisement
"Kris looked like it was torture for him" to be there, a source said, adding that the family was staring to dislike him. "And for Kris' part, he's gotten to the point where he feels like he was 'hired' to play the role of Kim's husband."
As RadarOnline.com previously reported, Hollywood attorney Laura Wasser will represent Kim in the split; the duo reportedly has a prenuptial agreement in place.
Kardashian and Humphries, a free agent NBA forward, tied the knot August 20 in a lavish wedding with stars like Eva Longoria, Ryan Seacrest and Lindsay Lohan among the 400 guests in attendance.
Article continues below advertisement
Wetpaint claim that E! Television staff contacted the New York Knicks to ask if hunky Italian basketball star Danilo Gallinari would be interested in dating Kim. "They asked if he would be interested in dating her and being on a reality show," a source told the website.
According to the insider, both E! and Kim were interested in having her date a big New York athlete for the debut season of Kourtney & Kim Take New York, which premiered in January 2011.
"Danilo said he would love to meet Kim but was not interested in dating her or being on a reality show," revealed the insider, who added: "Even though E! explained it would be great for his career, Gallinari turned the offer down."
The moral of the story: for all the best scoops, keep it tuned to RadarOnline.com and our friends at Star magazine!
RELATED STORIES: