Exclusive
While Kim Kardashian's Away Kris Humphries Plays: With Other Women!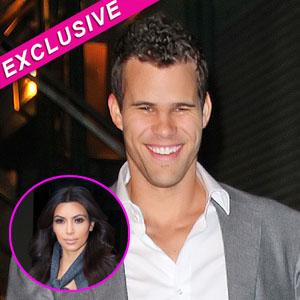 Kim Kardashian's marriage may not be as strong as she wants, since her new husband's wild partying with other women is catching up to him.
While Kim was traveling for work, her basketball star hubby Kris Humphries wasn't afraid to get a little frisky with some women in a bar and Star magazine has proof of their wild night out.
Kris jetted off to Miami with some buddies on September 30 and while at the LIV club at the Fountainbleau Hotel he got more than a little frisky with two young women.
Article continues below advertisement
"Jill and Lauren started dancing in his lap," a source told Star magazine. "It got really steamy, and Kris did nothing to push them away!"
Jill then posted a series of Tweets about her experience with Kris.
"Dancing on his lap life is complete."
"Best night of my life…He is so PERFECT in person."
Then one of the girls Tweeted: "SORRY KIM."
Jill and Lauren hoped to take things further with Kris in their hotel room, insiders say, but before Kris could say yes or no, one of the girls had to be taken home, clearly too drunk to stay in the club any longer.
In another sign that there are troubles in the marriage, Kris was photographed on Thursday hauling cardboard boxes and a suitcase out of the hotel that he and Kim have been living in while filming her reality show – and the NBA player was not wearing his wedding band.
Another source told Star magazine about Kris' womanizing: "Kris takes other girls' cell phone numbers all the time. To be honest, I don't think Kris truly loves Kim. And I don't think he ever really did."