Kim Kardashian Snubs Sister-In-Law's Catwalk Debut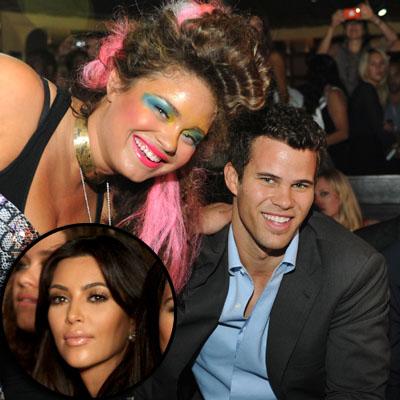 Kim Kardashian was noticeably M.I.A for her sister-in-law's catwalk debut Wednesday.
Kris Humphries' sister Kaela walked the runway at Richie Rich & Svedka's Popluxe fashion show in New York City. But while her NBA star brother was there to cheer her on, the new Mrs. Humphries was nowhere to be found.
Kaela strutted her stuff at the show where Ice T's wife Coco and Kirstie Alley also walked the runway which was held at Lavo Nightclub.
Article continues below advertisement
Earlier in the day, Kaela sat with Kim and Kourtney as they supported younger sister Kendall, 15, during her runway debut at the Sherri Hill fashion show. But the courtesy was not returned for her big moment.
Kaela was a bridesmaid at Kim's lavish wedding last month in Montecito, California, but the reality star is reportedly wary of her new family member trying to capitalize on the Kardashian fame.
It is being reported that there is already trouble in paradise with Kim and Kris's marriage.
He is already fed up with married life and having his life planned out for the sake of the reality TV cameras, insiders are claiming.
"Their whole life is staged," a source close to the basketball player told Star magazine. "I don't think he realized that and is now getting a rude awakening. He's sick of how their lives are planned out like a scripted TV show."
Article continues below advertisement
Since returning from their Italian honeymoon, the newlyweds have been spending less and less time together and Kris was seen without his wedding ring for more than a week.
While the 6' 9" athlete has been attending Fashion Week parties with Kourtney's boyfriend Scott Disick, Kim has been relying on her sisters to keep her company.
"The romance was so rushed," a source close to Kris said. "This marriage will not have a long shelf life."