The Top Ten Bikini Booties.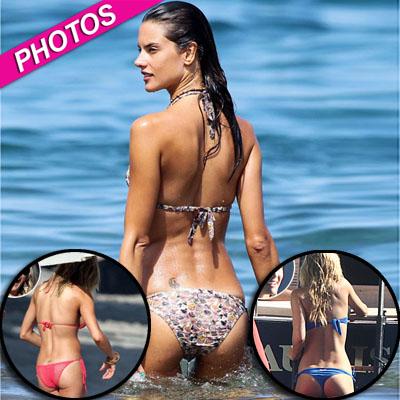 By Leah Ornstein - RadarOnline.com Style & Beauty Editor
There are tons of fine fannies on the shoreline, but only ten bikini babes made our list! RadarOnline.com has gone through endless amounts of bikini photos and picked out a pedigree of the ten most banging booties on the beach.
Kim Kardashian is famous for many things, but it is her awesome ability to fill out a bikini bottom the brim, which scored her a slot on our smokin' hot list. The reality show star, who recently flaunted her fab fanny in an impossibly skimpy Mrs. Humphries string bikini bottom, has one of the most talked-about tushes in the world.
Article continues below advertisement
Sexy wrestler and former Dancing with the Stars contestant Stacy Keibler knows that the way into George Clooney's heart is having a rock hard bikini bottom. The Academy Award winning actor has dated a bevy of beauties with superior booties, including Elisabetta Canalis and Sarah Larson.
Bar Refaeli and Alessandra Ambrosio get paid the big bucks to strut their stuff in the skimpiest bikinis and lingerie, so it's part of their job to keep their fannies firmed to fabulousness.
And LeAnn Rimes spends hours at the gym breaking a sweat so that she can show off a flawless and fat-free fanny on the shoreline.
What other stars scored a slot on RadarOnline.com's Top Ten Bikini Booties list? Click here to find out.