Swimming With The Sharks! Kim Kardashian Takes The Plunge; In Skimpy Bikini (Of Course!)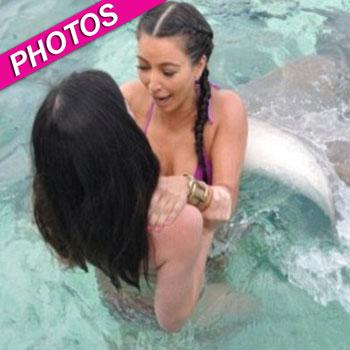 It's the Kardashian family vacation that keeps on giving!
Months after the Kardashian and Jenner clan enjoyed a photo-filled getaway in Bora Bora, Kim Kardashian took to her personal Celebuzz blog on Wednesday to share images and memories from a fear-filled adventure – she went swimming with sharks and stingrays – and RadarOnline.com has the photos.
Wearing a skimpy bikini, the curvy reality show star shares her memories of the family outing.
Article continues below advertisement
"While we were in Bora Bora we went out on the boat to swim with the stingrays and sharks!!! Swimming with sting rays and sharks seems so scary but they bring people out here a dozen times a day, so we knew it was safe," she blogged. "Still, we were all really scared, you can see the look of fear of on all of our faces!"
In one photo, her younger brother Rob can be seen dangling over the side of the boat.