Kardashian Sisters Show Letterman X-Ray Of Kim's Tush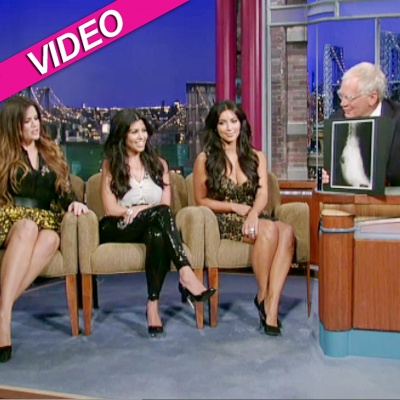 David Letterman had a full house with three queens on Tuesday's edition of The Late Show, conducting an interview with the Kardashian sisters, Kim, Kourtney and Khloe.
The highlight of the interview centered around -- what else? -- newlywed Kim's oft-celebrated tush, as the sisters brought Dave the famous X-ray of Hollywood's most-talked-about derriere, proving false the rumors she's had implants in her caboose.
Article continues below advertisement
"Is that painful, to have a butt X-ray?" the Indiana funnyman asked the socialite, who said, "No, you just kind of lay there."
"Kind of like my honeymoon," Dave wisecracked.
A touch of sibling rivalry filled the air when Khloe complained about Kim's fanny-friendly genetics.
"That's where all of the fat goes -- right to her a**!" Khloe complained. "All she does is eat junk food, and all it does is go to her booty -- nowhere else!"
Kim explained that she has an extra hard time keeping the pounds off when she's in the Big Apple.
"New York kills me," she said. "I'm here for a couple of months and it's just the death of me ... those nuts on the street corner ... I put on an extra 10 pounds every time."
"Well thank God we got to the bottom of that, you know what I'm saying?" Letterman joked.
Also in the interview, Kim said her recent wedding was a combination of magic and stress.
Article continues below advertisement