Exclusive
Hollywood's Hardest Working Girls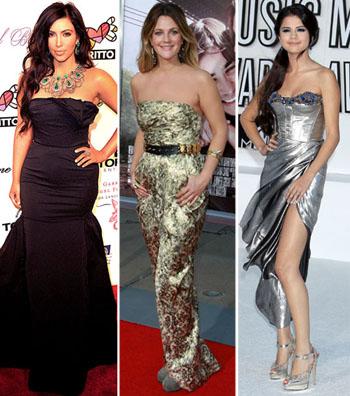 Labor Day not only signifies the end of summer, but also is dedicated to the social and economic achievement of American workers. In honor of the national holiday, RadarOnline.com is bringing you a special photo feature devoted to the 20 hardest working – as well as hottest – Hollywood bombshells.
Most people slow down after winning an Academy Award, but not Angelina Jolie! The big-lipped bombshell refused to settle on being just another Hollywood sex symbol, growing out of her bad girl stage and blossoming into an international humanitarian. When she is not spending time with the Jolie-Pitt brood or acting/directing in movies, Angie is fulfilling her duties as The Goodwill Ambassador for the United Nations High Commissioner for Refugees. Talk about karma points!
Article continues below advertisement
And Kim Kardashian isn't just your average reality star – she is a hard working businesswoman! In less than five years Kim has expanded her empire, launching numerous cosmetic and fashion lines, opening DASH stores across the country and even making a profit by getting married.
Heidi Klum isn't your average supermodel! The Victoria's Secret model was blessed with an Angelic face, a heavenly body, and most importantly, a beautiful mind. In addition to being the host, judge and executive producer of Project Runway, the 37-year-old German has several cosmetic and clothing lines under her wings, acted in several films and television shows and is the devoted mother of four children.
Reese Witherspoon, Cameron Diaz, Jennifer Lopez and Drew Barrymore are just a few of the big screen bombshell who made the list, as well as sassy singers like Miley Cyrus and Katy Perry.
To see all 20 of the Hollywood's hottest working girls, click here.