Was Kim Kardashian Eyeing Another Baller Before Kris Humphries? New Report Says She Shopped Around!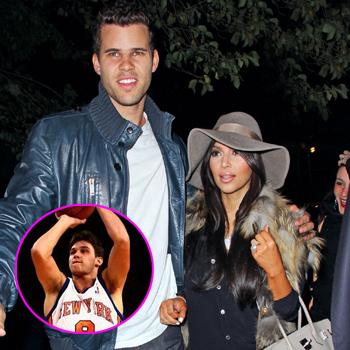 It's been rumored that Kim Kardashian wed Kris Humphries in a marriage of convenience as she uses him as a sexy 6'9" accessory on the red carpet. And reports are rife that the couple's two-month-old marriage is already in trouble.
And now comes a new report that Kris wasn't Kim's first choice to be her basketball beau. In fact, according to Wetpaint.com before the brunette beauty met her new husband, Kim was so eager to date a basketball player that E! were calling around teams to matchmake with NBA athletes, RadarOnline.com has learned.
Article continues below advertisement
Wetpaint claim that E! Television staff contacted the New York Knicks to ask if hunky Italian basketball star Danilo Gallinari would be interested in dating Kim. "They asked if he would be interested in dating her and being on a reality show," a source told the website.
According to the insider, both E! and Kim were interested in having her date a big New York athlete for the debut season of Kourtney & Kim Take New York, which premiered in January 2011.
"Danilo said he would love to meet Kim but was not interested in dating her or being on a reality show," revealed the insider, who added: "Even though E! explained it would be great for his career, Gallinari turned the offer down."
Did they then move on the New York metro area's other NBA team, the Nets, to set her up with a 'ball star?
Kim has said that she met her future husband after attending a basketball game in New Jersey with a friend. When she told the pal how adorable she found Kris, Kim's friend, who happened to know another player on the team, set up a group dinner, reported Wetpaint.
Article continues below advertisement
After spending last season courtside at the New Jersey Nets games cheering Kris and ultimately walking down the aisle with him last August, it makes you wonder if E! made the same offer to the Nets - and they didn't turn it down!
Wetpaint Entertainment contacted the Nets spokesperson and they declined comment, but considering the current NBA lockout, no team is allowed to comment on their players.
Despite growing reports of discord between the two, Kim and Kris were all smiles on Saturday when they celebrated her 31st birthday in Las Vegas, as RadarOnline.com previously reported.