Kim Kardashian Wedding: Three Vera Wang Gowns And Robin Thicke Performing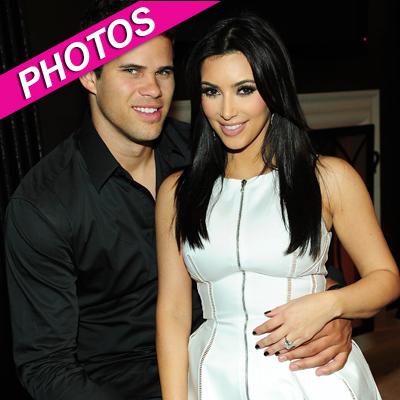 After the vows and the tears and the "I now pronounce you husband and wife" part was all done, Kim Kardashian and Kris Humphries turned their wedding into a party to remember.
Hollywood was out in force for the affair. Eva Longoria, Mario Lopez, Ryan Seacrest and Julianne Hough, George Lopez, Sugar Ray Leonard, Lindsay Lohan with mom Dina, and Ciara were all there, dressed in black or white per Kim's instructions.
Article continues below advertisement
Kim went through three Vera Wang gowns during the night, each very different but equally beautiful.
Wolfgang Puck catered the affair, ending the lavish dinner for 450 guests with summer truffles.
Robin Thicke sang his hit Angels for Mr. and Mrs. Humphries' first dance. He followed up with Let's Stay Together, reports E!
Earth, Wind and Fire then took over the stage and ramped up the fun factor. Then a DJ came on and kept people dancing until close to midnight.