Paris Hilton Flips Out Over "Losing Fame" Question, Gets TV Crew Banned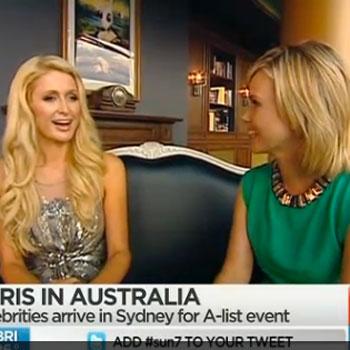 Paris Hilton has shown how anxious she is about fading into obscurity. The heiress was greatly "offended" when questioned about losing her fame and got an Australian TV crew banned from a red carpet event for daring to broach the subject.
The socialite who has always been most famous for being famous, and well, for that pesky sex tape, was being interviewed by Australia's morning TV show, Sunrise, with simple questions like what her typical day is like and the show her DJ boyfriend Afrojack was putting on that night at a big club opening.
Article continues below advertisement
Correspondent Edwina Bartholmew also politely asked Paris, "What about when you're not famous anymore, what are you going to do?"
The 31-year-old Hilton responded by saying that she "just wants to be able to have children and have a normal life with my kids."
Although she said it all in her typical Paris baby-tone complete with a smile, her publicist later made it clear that the heiress was not happy with being asked about losing her fame.
Sunrise producers were told that if they aired the full interview they would not be allowed on the red carpet at the club opening that night.
The show didn't take kindly to being threatened by Hilton and ran it anyway, and the clip of the segment provides a hilarious insight into the real world of Paris.
As RadarOnline.com previously reported, Paris traveled Down Under with other celebrities like Minka Kelly and Nick and Vanessa Lachey for the opening The Star casino's new club, Marquee.
Article continues below advertisement
This is not the first time that Paris has taken umbrage to a reporter's question insinuating she is losing status.
Last July, Hilton became upset when Good Morning America reporter Dan Harris asked her if her "moment has passed" following the disappointing ratings she got for her reality show, The World According to Paris, and being overshadowed by her former friend Kim Kardashian.
A peeved Paris peered off-screen and walked off camera, leading to what Harris called "a long, heated conversation with Hilton and her publicist" before taping of the segment resumed.