Eccentric Billionairess The Duchess Of Alba Marries Toy Boy Husband 24 Years Her Junior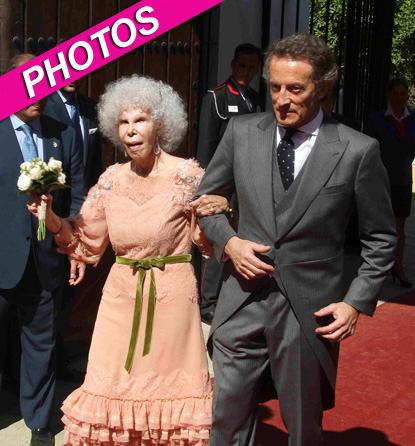 The bride wore peach and hit the dance floor like a teenager as she hitched-up her wedding dress to show off her moves with her dashing young groom, despite being 85 years old and twice widowed!
Having overcome the public outcry by her children over their engagement, the 18th Duchess of Alba finally married her 61-year-old civil servant fiancé, Alfonso Diez, in Seville, Spain on Wednesday and RadarOnline.com has the flamboyant photos.
Article continues below advertisement
Maria del Rosario Cayetana Alfonso Victoria Eugenia Francisca Fitz-James Stuart y Silva, who holds the record for the most aristocratic titles, possessing at least 44 noble titles and 150 hereditary ones, is one of Europe's wealthiest aristocrats and worth an estimated $4 billion.
As head of the 539-year-old House of Alba, her privileges include not having to kneel before the pope and the right to ride on horseback into Seville cathedral.
Article continues below advertisement
As RadarOnline.com previously reported, the Spanish royal divided her fortune between her children and grandchildren before the wedding.
The 24-year age gap and massive difference in bank accounts between the pair ruffled so many feathers among Cayetana Fitz-James Stuart's six children that she decided to prove that she was genuinely the object of Diez's affection by giving them her inheritance before walking down the aisle, including gifting all of them (and her eight grandchildren) a palace each.
She also made Diez, who works as a civil servant in the department of security, sign a legal document renouncing any claim to her wealth after they tied the knot.
But, just like with the hottest Hollywood hook-ups, a nude photo scandal hit the headlines just days before the wedding.
A 30-year-old photograph of the duchess as she sunbathed topless in Ibiza was splashed on the cover of the racy Spanish magazine Interviu, this week, prompting a legal threat, reported The Telegraph.
Article continues below advertisement