Exclusive
It's Tamara's World — Petra Ecclestone's Big Sis Approached About US Reality Show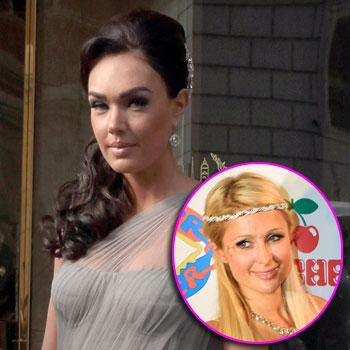 Will Tamara Ecclestone be following in her little sister, Petra's footsteps and moving Stateside soon?
According to reports from the UK, it looks that way!
American TV bosses are keen to sign Tamara for her own reality TV series, and are hoping to launch her as the "English Rose version of Paris Hilton" according to entertainment news service, BANG Showbiz.
The 27-year-old socialite – whose three-part UK reality show Tamara's World will premiere in England on October 28 - has impressed American TV network executives so much they are eager to sign her to a U.S. show.
Article continues below advertisement
"Tamara's going to Los Angeles in September and she's meeting with networks out there to discuss a reality TV show in the States," a source said. "We have been approached by a number of networks keen to talk to Tamara about her own shows.
"Tamara's World is all about her world, it's a really true unscripted look at the billionaire lifestyle. Waking up in the morning with her make-up off, fighting with her boyfriend.
"While the U.S. show would be primarily about Tamara, her family, including sister Petra will make an appearance and hopefully some of her celebrity pals including Lisa Snowdon and Princesses Beatrice and Eugenie."
Meanwhile, the savvy businesswoman – who is also hoping to launch her range of haircare products Uno in America next year – is also keen to develop her acting career and has been approached by a family friend who knows Sylvester Stallone about appearing in The Expendables sequel.
Article continues below advertisement
The source exclusively told BANG Showbiz: "Tamara is going to look at the possibility of launching Uno in America on QVC after it launches in the UK next March and the U.S. networks are very interested in following her as she does this.
"She is very interested in acting - definitely not singing, Tamara admits to being tone deaf! She was approached by someone who knows Sylvester Stallone and he was asking about Tamara having a bit part in The Expendables 2. It's something she's very interested in and hopefully she can meet with them when we go to LA."