Kim Kardashian Accuses Airline Of 'Stealing Sentimental, Irreplaceable Items'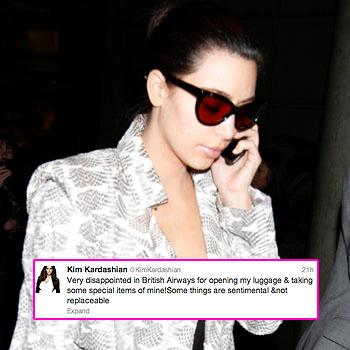 Reality mogul Kim Kardashian has shared so much of her life with her TV audience that it's almost impossible to think she has any secrets left.
But in an astonishing rant against British Airways, the 31-year-old has revealed that even she doesn't like her space being invaded… or her suitcase being rifled.
Kim has blasted the well-respected carrier for allegedly removing "sentimental" items from her luggage.
Article continues below advertisement
She claims that her romantic trip to Europe with boyfriend Kanye West (and to shill her latest fragrance, of course) ended on a bum note when she noticed the mysterious items were missing.
She'd enjoyed London and a visit to the Cannes Film Festival, where as RadarOnline.com reported, Kim pulled an Angelina Jolie on the red carpet.
In a series of tweets last night, she wrote: "Very disappointed in British Airways for opening my luggage & taking some special items of mine! Some things are sentimental & not replaceable.
"What happened to the days when you could lock your bags! We need to get back to that. There's no sense of security & no trust! Shame on you."
British Airways says it is "looking into" the matter.
So what do you think the items could have been?
They're irreplaceable so that rules out the Keeping Up With The Kardashians star's treasure trove of Louboutin shoes and Hermes bags.
RELATED STORIES:
PDA Overload! Kim Kardashian And Kanye West Affectionate In Cannes