Kim Kardashian Pulls An Angelina Jolie Leg Move On Cannes Red Carpet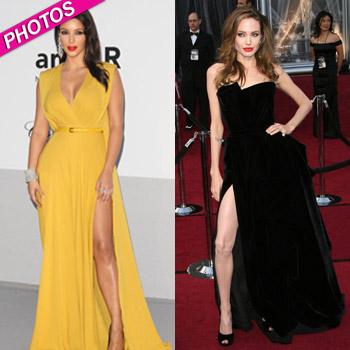 Article continues below advertisement
Alone on the red carpet and without her new beau Kanye West, Kim sizzled in her canary yellow Elie Saab dress and showed off her shapely left leg through a thigh high slit in the skirt.
Angelina Jolie wore a black Atelier Versace gown to the Oscars when she posed with her leg out, causing such a scene that her leg even got its own Twitter page.
Kim has been the belle of the ball during the Cannes Film Festival, but her own sexy pose probably won't outshine Angelina's!