Kim Kardashian Takes A Break From Kanye West, Promotes Diet Pills In London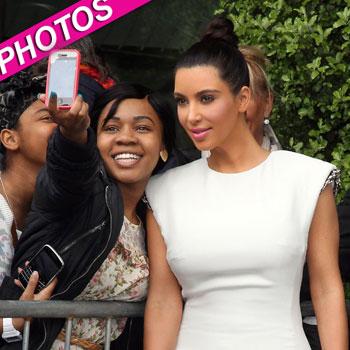 It's business as usual for Kim Kardashian as she stepped out in London on Saturday to promote the UK launch of QuickTrim.
Curvaceous Kim took the time to pose for photographs with British fans waiting outside her hotel before heading off to hock the product at the Westfield shopping mall.
The savvy businesswoman – who is in town with rapper beau Kanye West – happily promoted the product she claims keeps her in shape.
Article continues below advertisement
The 31-year-old was all smiles despite the recent controversy surrounding another weight loss product that she endorsed – Sketchers Shape-Up shoes.
In a steamy TV commercial Kim pretended to dump her personal trainer to "workout" in the sneakers that are supposed to keep you toned and trim just by walking around in them.
While not admitting to any wrongdoing, the company has agreed to pay $40 million to settle the U.S. government's claim that the shoes didn't perform as advertised.