Duck, Duck Goose! UK Host Grabs Kim Kardashian's Booty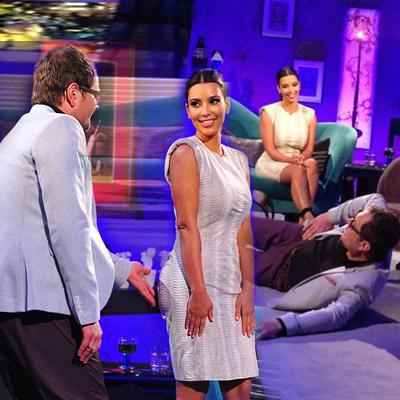 Kim Kardashian let UK talk show host Alan Carr grab her behind during a recent segment of his show Alan Carr: Chatty Man, and RadarOnline.com has all the details for you.
"I would love a bum like yours," Carr, 35, told Kim. "If I had a bum like yours I would walk in to a room backwards: How honored are you when people say you have the best bum in the world?"
The fashionista, 31, answered, "It's weird to think of yourself like that, but I do work out all the time.
Article continues below advertisement
"I also think it's like an Armenian thing; it runs in the family, and we are all really curvy. So I thank my roots for giving me a big butt!"
After she bragged her derriere has "no implants," the girlfriend of rapper Kanye West challenged Carr to take the Pepsi challenge, so to say -- and he did!
The episode airs in the UK Friday.
RELATED STORIES:
Kris Jenner Thrilled With Kim Kardashian & Kanye West Relationship
MORE ON:
hollywood happenings