Exclusive
Kim Kardashian Tried To Reconcile With Reggie Bush, He Shot Her Down!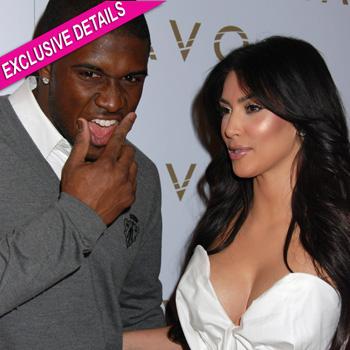 Before Kim Kardashian got hot and heavy with Kanye West, she spent time in Miami with her ex-boyfriend, Reggie Bush, and attempted to reconcile with the football star, but he ultimately decided not to because they want very different things out of life, and RadarOnline.com has exclusive details.
As we previously reported, Kim was snapped slinking out of West's NYC apartment last Thursday morning wearing the same outfit she was wearing on her date with the hip hop star on Wednesday. Kanye professes his love for Kardashian in his new song, Theraflu.
Article continues below advertisement
Bush, a former USC running back who's currently playing for the Miami Dolphins, spent time in South Beach with Kardashian several weeks ago. "Kim spent a lot of time with Reggie at his house, and the two had very long and thoughtful conversations about what their future could look like together," a source close to the former couple tells RadarOnline.com. "Kim absolutely wanted to get back together with him, but Reggie pointed out that they both want very different things out of life. Reggie is much more low key than Kim and does not want to live his life in the public eye the way she has chosen to. Remember, when Reggie and Kim first started dating, she didn't have a reality show; that came about a year into the relationship. There will always be a lot of love between Kim and Reggie, but he just doesn't see a future with her."
Bush also expressed concern about the timing of the attempted reconciliation.
"Yes, Kim is no longer is with Kris (Humphries) and the divorce will become final soon, but it hasn't even been a year since the wedding. Reggie felt that getting back together with her would be a step backwards for him and he moved on a very long time ago," the source says. "Reggie doesn't have any bad feelings towards Kim and he only wants the best for her but he told her she should spend some time on her own for awhile. Several weeks after he had that conversation with her she went public with Kanye, affirming that he made the right decision."