Walk Of Shame! Kim Kardashian Caught Leaving Kanye West's Apartment!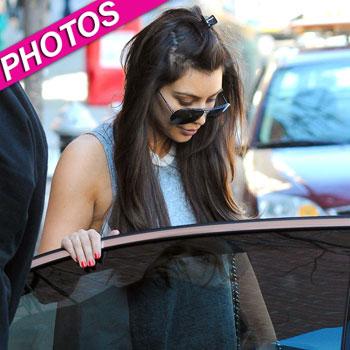 Article continues below advertisement
While Kanye says in his new song Theraflu that he "fell in love with Kim," we reported in January about their on-going hook up.
"They were both cheating," Kanye's ex Amber Rose exclusively told Star magazine. She said the pair hooked up while they were both in relationships with A-listers – Kim with NFL star Reggie Bush and Kanye with Amber!
While Kim has been avoiding confirming their relationship, telling Ryan Seacrest "I'm not really dating right now at all, I'm really just focusing on work" since her breakup with hubby Kris Humphries.
Kanye's new single sings about his past relationships. "The whole industry wanna f**k ya old chick/ Only n***a I got respect for is Wiz/ And I'll admit I fell in love with Kim/ Around the same time she had fell in love with him."
He also slammed Kim's ex-hubby and his baller job with the Jay-Z owned New Jersey Nets, rapping, "Lucky I ain't have Jay drop him from the team."
Kim was flanked by Kanye's bodyguard as she left the apartment and was driven back to her hotel in his Mercedes.