Kim Kardashian Tweets 'Crazy Eyes' Photo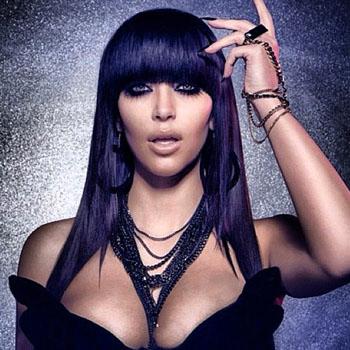 Kim Kardashian donned a Lady Gaga-esque look -- complete with colored contacts and cleavage that's more than ample -- in a new shot she uploaded to her Twitter page.
"What I would look light with light eyes," the ex-wife of Kris Humphries tweeted to her 14.2 million followers along with a pic of her avant-garde get-up, consisting of straight hair with even bangs, a tight corset and a garish black necklace.
Article continues below advertisement
The 31-year-old mogul, fresh off being "flour-bombed" last week during a promotional event at The London West Hollywood, says she's shed six pounds in a week's time.
"I'm on a mission" she told Us magazine at the event. "I figure, I'm single. Now is the best time to get in shape!"
She went into more detail on her Twitter account about the sacrifices she's making with summer on the horizon.
"I've been trying to change my bad eating habbits sic - slow process but its working. I feel so much better! Sugar, dairy & gluten free. HARD!" she tweeted. "I will have sweets every once in a while & dairy but this is a huge step for me! Its a lifestyle change but I'm loving it so far!"