Kim Kardashian 'Flour-Bombed' On The Red Carpet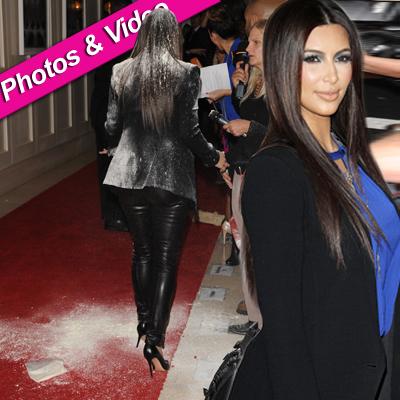 White powder and red carpets don't mix well.
Just ask Kim Kardashian, who was "flour-bombed" Thursday night at The London West Hollywood, an upscale hotel where she was promoting her new perfume True Reflection.
"That probably is the craziest, unexpected, weird thing that ever happened to me," Kim told her home network of E! Following the bizarre confrontation. "Like I said to my makeup artist, I wanted more powder and that's a whole lot of translucent powder right there."
Article continues below advertisement
A woman dumped a bag of flour on the head of the 31-year-old mogul in the hotel lobby, according to the Los Angeles County Sheriff's Department, who took a non-criminal battery report of the incident.
Kim -- who was dressed in an all-black get-up -- went back to her room at the hotel and returned cleaned up, police said. She declined to press charges or get checked out by paramedics.
Her sisters both tweeted in outrage after learning of the occurrence.
Watch the video on RadarOnline.com
Older sister Kourtney tweeted: "Classy to flour bomb my sister at her charity event helping women. I wonder if they would have dared thrown the flour at my hormonal and pregnant self!"
Younger sister Khloe tweeted: "I wish I was with my sister tonight. I bet you that woman wouldn't have dared tried a thing..."