Jon Hamm Can't Escape Kim Kardashian!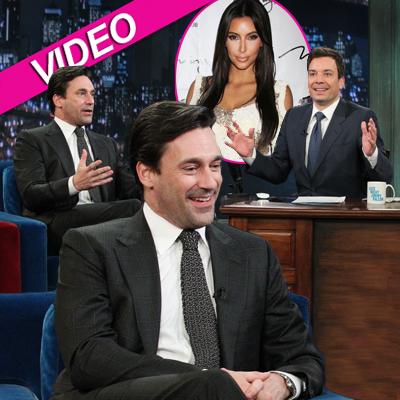 By Adam S. Levy - RadarOnline.com Staff Writer
It's Jon Hamm's new reality -- he just can't escape reality TV vixen Kim Kardashian, for better or for worse.
The critically-acclaimed actor, who painted the reality diva's TV fare as cheap, vapid entertainment, appeared on Jimmy Fallon Tuesday, and it didn't take long for Fallon to ask a few Kim-related questions, as she and Hamm engage in a public war of words.
Article continues below advertisement
Hamm, promoting the new season of his Mad Men, was saying how he has "good problems" balancing a busy schedule, when Fallon shoehorned a Kim reference in.
"And you also had the Kardashian thing, those were not good problems," the late night host joked with Hamm, who took the high road in responding, "Well, that's not really a problem, is it?" to get a round of applause from the studio audience.
As we previously reported, the whole brouhaha began when the St. Louis-born actor, who plays Don Draper on the hit AMC series, told Elle UK that Kim's popularity, in part, stems from the fact that "being a f---ing idiot is a valuable commodity."
Article continues below advertisement
Kim, in response, told Ryan Seacrest Tuesday that while "not everyone takes the same path in life, we're all working hard and we all have to respect one another.
"I just feel like, to be honest, it's all about trying to stay focused and keeping everything positive," she continued. "It really takes a lot more energy and effort to be harsh than to say something nice and be positive."
Mad Men rolls out its new season with a two-hour premiere on Sunday, March 25 at 9/8c.