Jon Hamm: Digs At Kim Kardashian Were Not 'Careless,' They Were 'Accurate'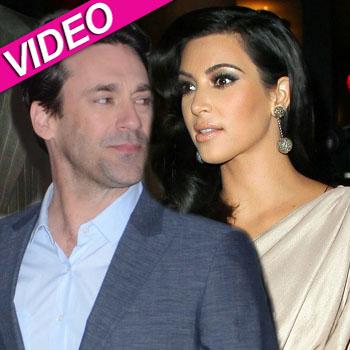 The war between one of TV's most critically-acclaimed actors and reality's reigning princess continues.
Jon Hamm, along with castmates of his smash-hit AMC series Mad Men told The Today Show Monday, didn't back down from his earlier comments to Elle UK about Kim Kardashian's popularity -- that "stupidity is being celebrated" and that "being a f---ing idiot is a valuable commodity."
After Hamm's comments circulated, Kardashian commented on the situation on Twitter: "Calling someone who runs their own businesses, is a part of a successful TV show, produces, writes, designs, and creates, 'stupid,' is in my opinion careless."
Article continues below advertisement
On Monday, the strapping St. Louis native stuck behind his words, saying that while it's not his cup of tea, Kim's shtick has its' place in the pop culture spectrum, for better or for worse.
"I don't think they were careless; I think they were accurate," said Hamm, who plays Don Draper on the hit series. "It's a part of our culture that I certainly don't identify with, and I don't really understand the appeal of it other than in a sort of car crash sensibility.
"And it's not something that I partake in or enjoy, but it is what is and here we are," he said. "There are a lot of channels on the dials and those channels need to be filled up with things: It's different strokes for different folks."
Watch the video on RadarOnline.com
His Mad Men cast mate Vincent Kartheiser agreed.
"I think our society enjoys to turn on the television and see someone who's maybe awful and they can say, 'Maybe I'm not as terrible as that person,'" Kartheiser said.
Article continues below advertisement