Kim Kardashian Slams 'Careless' Jon Hamm For Calling Her An Idiot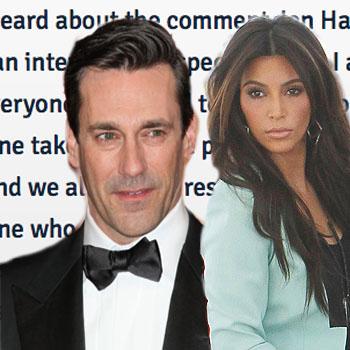 Article continues below advertisement
"Incuriousness has become cool… It's celebrated. It doesn't make sense to me."
Kim struck back on Monday, writing: "I just heard about the comment Jon Hamm made about me in an interview. I respect Jon and I am a firm believer that everyone is entitled to their own opinion and that not everyone takes the same path in life.
"We're all working hard and we all have to respect one another. Calling someone who runs their own businesses, is a part of a successful TV show, produces, writes, designs, and creates, 'stupid,' is in my opinion careless."
Kim's close friends and family are, obviously, on the businesswoman's side when it comes to this feud.
Close friend and reality co-star, Jonathan Cheban, shot back in response to Kim's tweet: "Who's Jon Hamm??"
And momager Kris Jenner expressed her agreement with a curt: "EXACTLY!!"
For those of you who don't know who Jon Hamm is, you can catch in him action when his hit show, Mad Men, returns to the screens March 25 on AMC 9/8 central.