Exclusive
Jon Hamm, Christina Hendricks, & Elizabeth Moss Put Down The Emmys For A Good Cause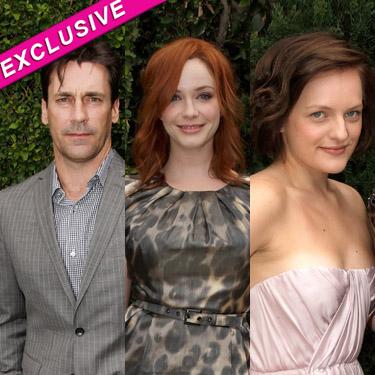 Radar Reporter
Fresh off their fourth straight Emmy win for Best TV Drama, the cast of Mad Men got together Sunday to host the Rape Treatment Center Foundation luncheon at billionaire investor Ron Burkle's historic Green Acres Beverly Hills mansion for the charitable cause.
Christina Hendricks, looking lovely in a St. John's dress, exclusively told RadarOnline: "This is an extraordinary organization that I didn't know about until recently." Her character, Joan, was raped on the show and she said that having Mad Men showcase issues that are still socially relevant today is awe inspiring.
Article continues below advertisement
"I've never been prouder in my life. The show is extraordinary and not many shows touch on these subjects and bring to light and inspire a conversation about it afterwards. Not many shows have viewing parties where they discuss the issues."
She admitted that she went on line one time to read the message boards, but "I'll never do that again, they were mean, mean, mean."
Leading man Jon Hamm told RadarOnline.com: "The Rape Treatment Center does a lot of good for a lot of people with no money. We need to invite some people to write some checks. When you set out to do what Gail (Abarbanel,the founder of RTC) has done for 40 some odd years, and the tremendous amount of women it has helped and also in the aspect of education and outreach it is something that has a pronounced affect on the culture and it needs to be said and needs to be supported. It's important work we're glad to be able to lend whatever celebrity or awareness we can."
Hamm said that issues shown on Mad Men are socially relevant now because "I think our show is set long enough ago that people are a little removed from it but not so long ago that it becomes fantasy or old timey stuff. It's a show that is set in the modern era which we're still in, we're close enough to recognize it.
"We have made advances that started in the era of our show, whether it's feminism or gay rights or rape awareness. I think that is why the show resonates nowadays."
Article continues below advertisement
Elizabeth Moss simply said: "It is important after all of the Emmys and the parties to actually be able to shed light on the Rape Treatment Center and the work that Gayle and her team are doing. It's really the best part of this job. This is something that when you get asked to do it you do because it is your responsibility. We want to bring awareness to the issue."
More than 900 people attended the luncheon fundraiser, including Priscilla Presley, JK Simmons, Mad Men's Vincent Kartheiser, John Slattery, and Aaron Staton, as well as political heavy weights California Attorney General Kamala Harris, Los Angeles Mayor Antonio Villaraigosa, and California Lt. Governor Gavin Newsome.