Christina Hendricks Loses $850,000 Bracelet During Golden Globes!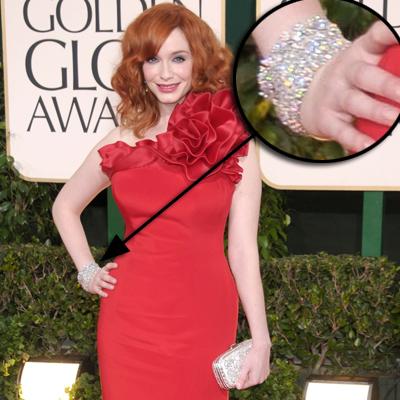 Mad Men beauty Christina Hendricks lost a stunning 124-carat diamond bracelet -- worth a staggering $850,000 -- during the Golden Globes.
Hendricks lost the stunning bracelet -- one of two loaned to her by jeweler Chopard -- while she was walking the red carpet prior to the start of the show.
People nearby heard the panic-stricken actress say: "Have you seen a diamond bracelet? I've lost one that looks like this," pointing at the one glittering bracelet left on her wrist.
Article continues below advertisement
Fortunately, the bracelet was found by an event worker at the Beverly Hilton Hotel in Beverly Hills, where the awards ceremony took place.
But when a relieved Hendricks returned to her table, she couldn't get it back on her wrist, so she stashed it in her ample cleavage!
Hendricks then begged a security guard to let her leave the ballroom and give the expensive piece of jewelry to her publicist who is stationed outside, even though nobody's allowed to exit or enter the room once the show has started.
The guard relented, and she gave the pricey bracelet to the publicist who was waiting outside the star studded dining room.
A rep for Chopard confirmed Hendricks was wearing 200 carats of their diamonds at the show and a security guard was on hand to make sure nothing went missing.
The jewels included a 49-carat emerald and Marquise-cut diamond bracelet set in platinum, and the 124-carat, pear-cut and fancy-shape diamond bracelet set in platinum, which she lost.
Article continues below advertisement