Exclusive
Kim Kardashian Vows To Fight Kris Humphries' Attempt To Televise Divorce Proceedings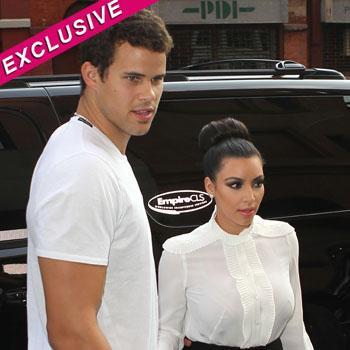 Article continues below advertisement
Kardashian's camp has told Humphries' lawyer that they will vehemently oppose cameras in the courtroom for the divorce trial. "Kris thinks it's somewhat ironic that Kim doesn't want cameras in the courtroom for the proceedings," a source close to the situation tells RadarOnline.com. "What is Kim so afraid of? For someone that has filmed and documented her life for her reality shows you wouldn't think she is going to fight so hard to not have cameras there. Kris just wants the truth to come out about what happened during their marriage, period. Kris' attorney will argue that cameras should be in the courtroom because Kim has chosen to live her life in the public eye, and the divorce trial shouldn't be off limits."
Meanwhile, Humphries is not happy about how he is continuing to be portrayed negatively in the press by Kim and her camp.
"Kris is furious about reports that he is making Kim's life hell. It's absolutely ridiculous and he is telling his friends that he won't be bullied by her anymore," a source close to the situation told RadarOnline.com. "Kris has told his lawyer to no longer attempt to reach a settlement with Kim. It's a waste of time and he is ready to take this to trial and he will. This was the last straw for Kris because Kim is attempting to drag his family into this drama and that crosses the line. Kris just wants the truth to come out and that is what the courts are for. A judge can decide if the marriage should be annulled on grounds of fraud. What is Kim so afraid of and why is she fighting their divorce going to trial? Kris' name has been trashed in the press by Kim's camp for a very long time and he has the right to fight back but he isn't doing it the way she is and he will have his day in court."
Article continues below advertisement
One thing is certain, the drama in Kim Kardashian's life won't be ending anytime soon. "If Kim would stop engaging in such childish and selfish behavior she would be a much happier person and Kris is relieved that the marriage ended and she is out of his life, he truly has moved on," the source says.
RELATED STORIES:
Kardashian Sisters Facing Anti-Fur Protest At DASH Store