Exclusive
Kris Humphries Wants Kim Kardashian To Return His Share Of The Wedding Gifts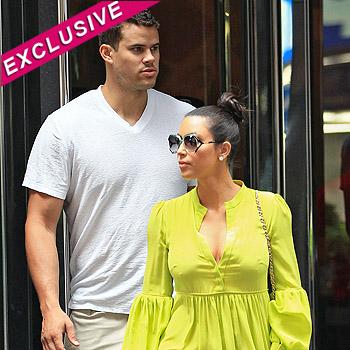 Article continues below advertisement
"Kim stated that she made a $200k donation to a charity for the value of the wedding gifts, but, Kris can't comprehend why Kim wouldn't just return the gifts, especially to his guests who aren't Hollywood movers and shakers," a source close to Humphries tells RadarOnline.com. "Kris wants Kim to turn over the wedding gifts that were given by his family and friends so he can get them a refund. Kris doesn't believe that Kim has the gifts, and that she absolutely did exchange all wedding gifts for jewelry for herself and her family. Kris wants to go to trial and have his lawyers ask Kim on the witness stand, under oath, what has really happened to the wedding gifts."
The NBA star filed docs Thursday in their ongoing bitter divorce battle asking for Kim to disclose all money that the couple earned during the time they were married. The documents accuse Kardashian of breaching the fiduciary duty, because, a source tells RadarOnline.com, "Kris feels that Kim hasn't given an honest and accurate accounting of money they made while they were married. Kris has complied with turning over his bank records and credit card statements but Kim hasn't and she has been stalling. Kris didn't want to take her to court over this, but he isn't playing Mr. Nice Guy anymore."
Article continues below advertisement
As RadarOnline.com previously reported, Humphries has laid down the gauntlet to Kardashian, vowing he won't be bullied by her anymore and has instructed his attorney to stop settlement talks.
"Kris is furious about reports that he is making Kim's life hell. It's absolutely ridiculous and he is telling his friends that he won't be bullied by her anymore," a source close to the situation told RadarOnline.com. "Kris has told his lawyer to no longer attempt to reach a settlement with Kim. It's a waste of time and he is ready to take this to trial, and he will. This was the last straw for Kris because Kim is attempting to drag his family into this drama and that crosses the line. Kris just wants the truth to come out and that is what the courts are for. A judge can decide if the marriage should be annulled on grounds of fraud. What is Kim so afraid of and why is she fighting their divorce going to trial? Kris' name has been trashed in the press by Kim's camp for a very long time, and he has the right to fight back but he isn't doing it the way she is, and he will have his day in court."