Exclusive
'My Boobs Saved My Life,' Claims Woman With The World's Biggest Breast Implants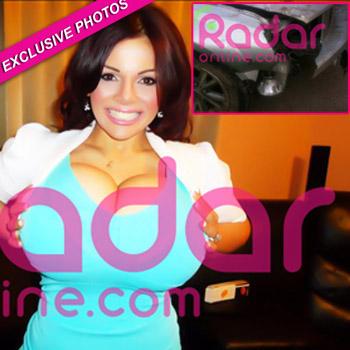 By Debbie Emery - Radar Reporter
The woman named by the Guinness Book Of Records as having the world's biggest breast implants claims her huge boobs saved her life during a scary Super Bowl Sunday car crash.
Sheyla Hershey was driving down a dark, wet road to pick up her husband after watching the football game when she lost control of her car and careened into a tree on the side of the road.
"It was raining and the roads were bad and the visibility was poor, there are no sidewalks," she told RadarOnline.com in an exclusive interview. "There was a rough crash into a tree then I panicked and reversed across the road and hit another tree."
Article continues below advertisement
When the airbags in her Ford Mustang didn't go off, Hershey, of Houston, Texas, says her own personal silicone airbags took their place.
"My implants saved my life, my breasts are very sore and I have some scratches on them but I know I would have been badly hurt without them because they are very close to the steering wheel."
Unfortunately, 32-year-old Hershey's KKK-sized breast implants couldn't stop her from getting arrested for a DUI. Though she wasn't drinking, officers who arrived at the scene deemed her to be under the influence of prescription drugs.
"I had taken my medications before I drove," she explained, which included drugs for depression and bipolar, vicodin for headaches, and a painkiller for the backache caused by her top-heavy physique.
In Texas, someone can be charged with driving while intoxicated if the officers consider their normal facilities to be impaired by drink, drugs or legal medications even if they aren't over the legal limit, Hershey's lawyer Paul Kendall explained to RadarOnline.com. "The state will now have to prove that the medication caused impairment," he said.
Article continues below advertisement
Hershey is hoping that when her legal troubles are over she can go back under the knife and increase her bust to the MMM implants that won her the place in the world record book.
"I got a staph infection and had to lose them in 2010, so now I want to go back to the way I was," she revealed to RadarOnline.com.
"You become an icon for people," Sheyla explained, and while some critics make jokes about her she claims: "my breasts make me feel better and improve my self esteem."
Naturally a BB, Hershey confessed that her mammoth boobs do come with a downside. "I have to take drugs for back pain, and I have trouble picking up my two-year-old daughter, but it's worth it because I've achieved my goal.
"My husband loves them, he doesn't want me to go any bigger again - but it's not up to him," Sheyla laughed.
RELATED STORIES: