Exclusive
Mob Wives Star 'Big Ang' Obsessed With Plastic Surgery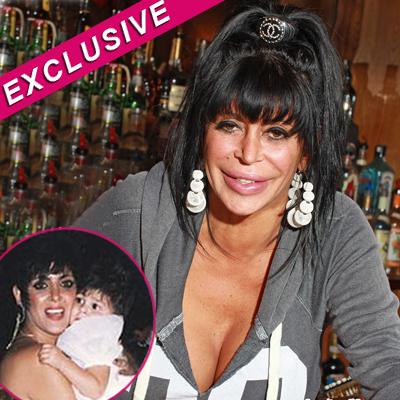 New Mob Wives star Angela "Big Ang" Raiola exclusively tells RadarOnline.com that she's obsessed with plastic surgery.
"I had a tummy tuck, liposuction, my lips injected and my breasts done three times," Big Ang said. "The first time I had my breasts done was 27 years ago, and they put sponges in them. That was in 1985."
EXCLUSIVE PHOTOS: Mob Wives 'Big Ang' Through The Years
Big Ang is the niece of Salvatore "Sally Dogs" Lombardi, a deceased captain of the Genovese crime family, tells RadarOnline.com that she loves to change her look and she's already had more than six plastic surgeries -- and still wants more.
Article continues below advertisement
The 52-year-old attributes her obsession with plastic surgery to insecurities about her body after her first child was born.
"My boobs were so big after I gave birth, I was a 42 triple J so I had to do something," Ang explained. "After I had the baby my boobs were dead. They just were prunes down to my waist. After my first surgery, I had them redone in 1995. They took the sponges out and put in saline implants. I had a double 36 double D when I was only 14-years-old, so I have always had a big chest."
Ten years later, she went back under the knife for another breast implant.
"I did it again in 2005, and replaced the saline with saline and silicone implants," she said. "I'm good now, I have a 36 J and that is perfect. I think that when men look at me, they notice my height and my boobs. I am married to a 38-year-old and I am 52 and he is 6-foot-7."
While Ang is pleased with her chest size, she's had other cosmetic surgeries for body parts such as her lips.
Article continues below advertisement
"I had my lips done eleven years ago," Big Ang said. "They put some sort of plastic collagen stuff in. I'm hot and I think I am sexy and men like my look, they just love me."
But it's never enough for Big Ang!
"I would like to have other surgery, like my eyes done and a slight face lift and my love handles removed by liposuction," she said. "I just need to get this liposuction fast around my bra and my backsides, and I'll feel much better after that cause my age is kicking in."
And what better place to find a plastic surgeon than … Facebook?
"My sister found the surgeon on Facebook. She is like my manager and does everything for me," Ang said. "I'm going in for a consultation for more plastic surgery in February and I hope to have it done in April. I've also had extensions for 25 years in every style and every color.
"I really like changing my look."
Check out our exclusive photo gallery of before-and-after plastic surgery pictures of Big Ang and let us know if you like her changing look below…