Joan Rivers Has A Plastic Surgery Intervention, Claims She's Had '739' Procedures!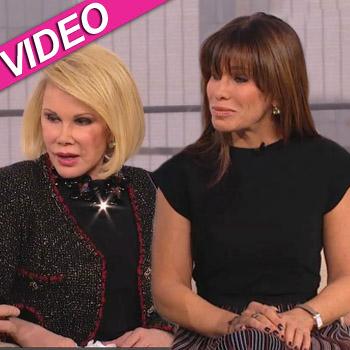 Article continues below advertisement
When the CNN host asked Melissa what finally motivated her to stand up to Joan over her many adventures under the knife, she replied: "I know why! Was it hard?
EXCLUSIVE VIDEO: Take A Peek Inside Melissa Rivers' Closet
"At one point I start to think the risk outweighs the reward, so I wanted my mom to know how I felt about it and I think I made myself fairly clear," Melissa continued. "I also found out that most of my friends are weak and she turned them very easily."
At which point glamorous Joan chipped in: "They all said, 'You shouldn't do it, you shouldn't do it.' And I said, 'What if I pay for everybody in this room? What would you do?' Every single person (accepted)."
"It actually became an episode about hypocrisy," explained Melissa, suddenly taking on a serious tone.
While we're not entirely sure if she was joking or not, Joan went on to make the bombshell revelation that she had undergone a whopping 739 surgical procedures over the years. "How is that possible?" asked an astonished Anderson.
Article continues below advertisement
"Every weekend I just go in and I do something new," she laughed.
"She has a punch card," added Melissa.
"I get a tenth one free. It's a little like coffee you just keep going," joked Joan.
Later in the show, Joan revealed that one permanent physical change she really wants to do to her body is to get inked, and she even went to a tattoo parlor on her 78th birthday.
"Melissa wanted me to just put my home number, 'If Lost, please call Betty White.'
"I ended up not getting it because they put you in a room with mirrors and I was putting it on my ass and I took a look and I just got so depressed. I said, 'Cover this right up,' but my friend got a tattoo. I'm very proud of her.
"Maybe my 79th, I'll put a recipe on, at this age what do you put on? You put a recipe!"
Currently ink-free himself, Anderson offered to come with her next year and get a tattoo too!
Article continues below advertisement