My Body Is A Temple! Joan Rivers Gets A Surgical Tune-Up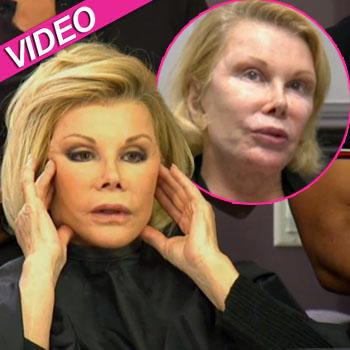 Funny lady Joan Rivers takes viewers behind-the-scenes -- and under the knife -- for her new WE reality show Joan & Melissa: Joan Knows Best, and we've got all the highlights for you on RadarOnline.com.
During one bizarre exchange, in which Melissa tried to persuade Joan, 78, against another procedure, Joan told her daughter, "My body is a temple, and my temple needs redecorating!"
In the show, we also saw glimpses of Joan's face sans the make-up and dressing, and wrapped up post-surgery; as well as the mother-daughter dynamic between the two comediennes at work.
Article continues below advertisement
Joan raised some eyebrows this week -- other people's, not her own! -- when she razzed comic rival Chelsea Handler after a perceived slight at a network event.
"Number one, the girl made it on her back f**king the president, we all know that, of the network. Number two, she's fine, she's ordinary. She's not a genius," Joan told the King Of All Media, Howard Stern, referring to Chelsea's past relationship with E! President Ted Harbert. "She's an ordinary girl that was f**king somebody high up in the industry and they gave her a break and she's doing okay."