Exclusive
Which Real Housewives Have Had The Most Plastic Surgery? Find Out Here!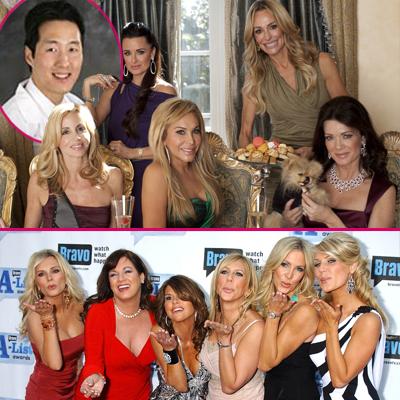 By Debbie Emery - RadarOnline.com Reporter
It's long been known that the Real Housewives aren't all that real after all!
With Botox, nose jobs, breast implants, facelifts and fillers, some of the reality stars are more plastic than fantastic, so RadarOnline.com had a surgery expert cast his vote as to which franchise was the most fake.
Asked to choose between the Housewives of Orange County, Atlanta, Beverly Hills, New Jersey and New York, celebrity plastic surgeon Dr. Anthony Youn, who has not treated any of the stars, told RadarOnline.com in an exclusive interview who, in his professional estimation, has had the most help from the surgeon's knife and syringe.
Article continues below advertisement
And the winner is -- drum roll, please -- Beverly Hills!
"It's no surprise that the Real Housewives cast with the most cosmetic work resides in the plastic surgery capital of the world: Beverly Hills," Dr. Youn exclusively revealed. "In fact, just over a year ago the cast members from RHOBH went on the Judith Regan Show on Sirius XM and each one admitted to which plastic surgeries they've had done!
"The cast member with potentially the least amount of work, Lisa Vanderpump, admitted to pumping her face up with a 'Bucket of Botox.'"
It wasn't too long ago when almost-natural Lisa dished on her co-stars about their love of going under the knife.
As RadarOnline.com previously reported, when asked who had gotten too much surgery, she quipped: ""I think all of them!"
"It is very obvious that some of them have had some procedures done."
Article continues below advertisement
Overall, Dr. Youn thinks the majority of the work is well done except for one body part: the lips.
Transgender Fake Butt Implant Doctor: Dozens More Victims Come Forward
"Why do so many Beverly Hills socialites think it's attractive to plump their lips up to Oscar Mayer weiner proportions?" he asked.
"I truly believe there is a subset of the population in Beverly Hills where these types of lips are thought of as a symbol of beauty. As a board-certified cosmetic plastic surgeon myself, I don't get it."
Article continues below advertisement